Browsing articles in "Mobile Apps"
You may have been using the VLC media player on normal PC and if you wonder when you can use it on much more popular ios devices, VLC media player is now available for download on the Apply app store. It has been terminated the Apple app store in 2011 because of conflict between the strictly controlled Apple ecosystem and its open source nature. This best free video player VLC is now back to Apple apps store to offer every iOS users the freedom to play video clips directly without doing any manual conversion.
Are you in search of some new and awesome apps? Whether you just got your Android device and are feeling adrift or you're a salty old dog seeing what you might've missed, here are some absolutely awesome android apps of the week that making your life easier and more organized.
Continue reading »
Warner Bros have brought good news to all Superman admirers. They have released the gaming app for the latest Hollywood movie, Man of Steel for Android and iOS devices. The game does feature decent graphics and interactive 3D environments.
Scorecleaner notes is a simple and easy to use music application for smartphone that able to convert simple melodies into notation. ScoreCleaner Notes allows users to sing or play a melody into their smartphone's microphone, and then the app will automatically converts sound input into musical notation with key, tempo, and time signature.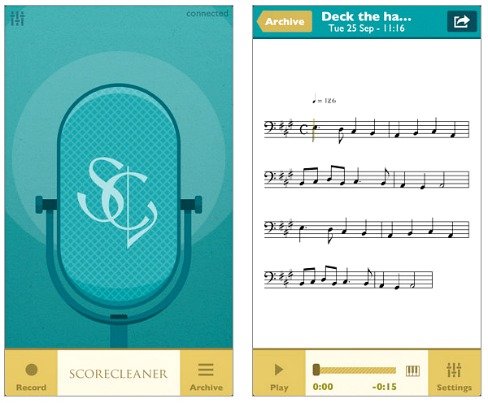 Continue reading »
Apple is celebrating the fifth anniversary of their iTunes App Store's. The iTunes App Store's has now 900,000 apps in the catalog and over 50 billion downloads. Starting today, iTunes App Store will be giving up some best games and apps for iOS.
Good news for those that are looking for Skype video calling feature on Android devices, Skype version 4.0 has been released with an all-new design. With redesigned Skype 4.0, it improves app more reliable for trigger quick messages and intuitive gestures for swipe to start a conversation.
The most famous photo sharing app – Instagram, recently added video features that allow users to post filtered videos to their picture collections. With Instagram's arrival of video features, video auto-play is turned on by default. The video auto-play perhaps the amount of bandwidth over time, especially for who follow a lot of people posting videos and subscribe a 3G or LTE connection service. However, video auto-play features can disable by users with some simple tricks.
Continue reading »
A smartphone or tablet is an indispensable tool for everyday living. Many people rely on their smartphones to do numerous activities, like sending emails, social networking, web browsing, and conduct monetary transactions.
If you've just bought a new Android smartphone or tablet and looking to pack it with the finest app offerings on Google Play, here the 3 Android Apps of the Week. All of the apps we feature can be found easily on Google Play Store with searching the app name.
Continue reading »