Scorecleaner notes is a simple and easy to use music application for smartphone that able to convert simple melodies into notation. ScoreCleaner Notes allows users to sing or play a melody into their smartphone's microphone, and then the app will automatically converts sound input into musical notation with key, tempo, and time signature.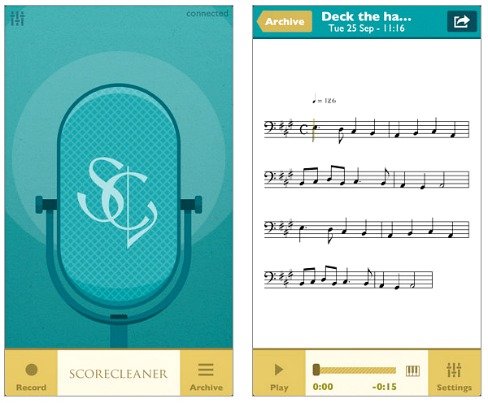 Features of Scorecleaner notes:
Intelligent interpretation of pitch, time signature, rhythm & meter, and tempo directly from monophonic audio input
Displays monophonic audio recordings in Standard Western Notation
In-App and cloud-based storage of songs
Designed for recording also in noisy environment
No limitations with regards to musical style
Provide song title
Support email and social media
Save up to 4 songs in Song Archive
Works with a wide range of musical instruments
Sign up for a ScoreCleaner Cloud account to synchronize songs between ScoreCleaner Desktop on PC or iOS device in order to edit and arrange them
Once recorded, the melody can be played back as both a MIDI piano sound or the original recording and also can be shared via email or social media to friends. The app combined with a high level of accessibility which it can use in a wide range of environments such as bedrooms, studios, or classrooms. In addition, it also comes with desktop version – ScoreCleaner Notes Desktop that works similar with iOS app.
Scorecleaner notes is now available in iTunes App Store with cost $0.99 for full version.
Check out the video below to see the app in action.