Browsing articles in "Office"
SoftMaker Office NX – An alternative software to Microsoft Office and LibreOffice which designed for Windows operating system. SoftMaker Office NX comes with DOCX, XLSX, and PPTX file formats that guarantees compatibility with Microsoft Office.
The software consists with 3 modules – TextMaker designed for texts writing similar as Words, PlanMaker as a powerful counterpart to Excel, and SoftMaker Presentations for creating awesome presentations. With it advanced technology, this office suite can be installed to USB flash drive for used on any PC without installation.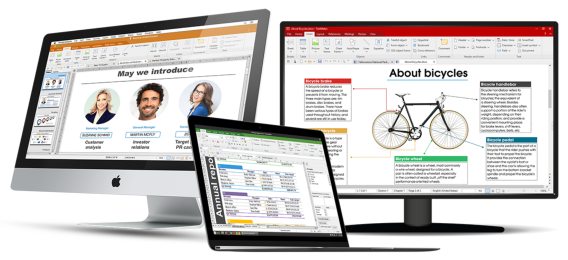 Continue reading »
Professional PDF editing software – VivPDF is a comprehensive PDF editing software that features OCR recognition, convert PDF to word file, convert from 200+ format file to PDF file, edit PDF file (text or image), document signature and certification, comment insertion.
To enhance PDF editing experiences, VivPDF also provide security features. VivPDF enables password protection, encrypt file by algorithms to prevent unauthorized access to PDF files. In addition, VivPDF can also lock the document print and configure the changes by others.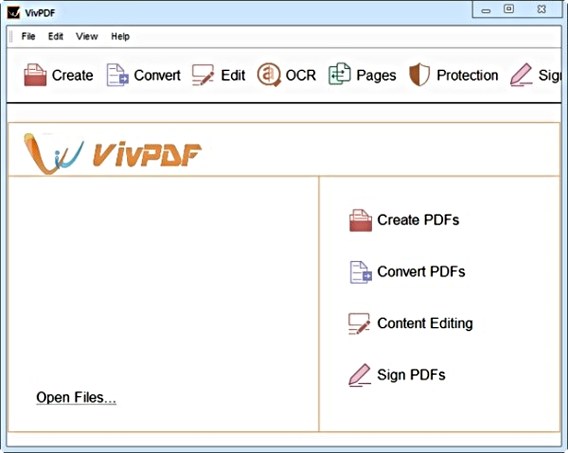 Continue reading »
Just three clicks, now everyone can convert PDF documents to Word, Excel, PowerPoint, Text, and other formats. iCareAll PDF Converter is an easy-to-use PDF converting program that could convert 1000 files in batch of Word, Excel, PDF and text files or HTML or Images into PDF file with high quality and accuracy.
With it easy-to-use interface, users just need select the destination file type, upload the files wish to convert, and then begin convert PDF file. In addition, iCareAll PDF Converter also can merge or split files into multiple parts, merge files, decode and compress documents.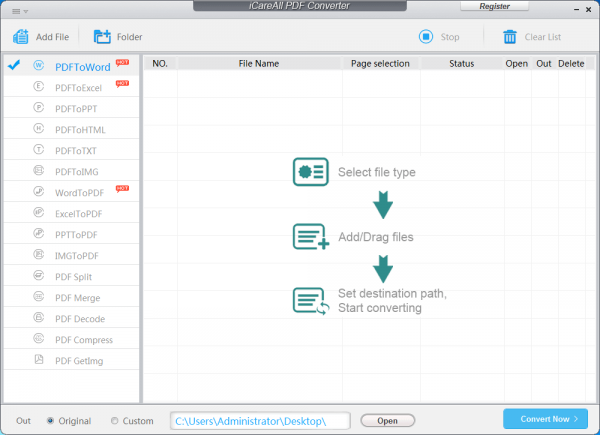 Continue reading »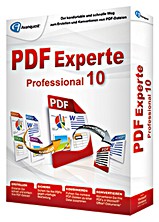 Avanquest Expert PDF Professional is an advanced PDF editing software that features for view, edit, and convert PDF files with technology OCR. It comes with easy to use and efficient interface.
Avanquest Expert PDF Professional can convert PDF files into Word documents, convert PDF files to graphics formats, and allows for edit, modify, re-arrange images, share, and much more. The program even allows for merge several documents from multiple source file formats into a single PDF.
In addition, Avanquest Expert PDF Professional also provides security settings such as password, print rights, and encryption.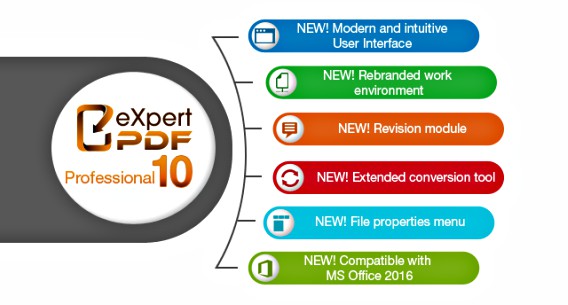 Continue reading »
After giving away ASCOMP Secure Eraser, the developer ASCOMP Software is giving away ASCOMP PDF Conversa for Windows operating system. ASCOMP PDF Conversa is a comprehensive, powerful and easy to use PDF to Word converting tool which can be operated in high-quality conversions with single button to convert PDF file to Word, or convert Word (Doc or DocX) to PDF.
In addition, the software also allows to add digital signature to PDF file, setting PDF picture quality (High, Normal, Low), and feature unusual compress text setting for lossless compression to PDF file.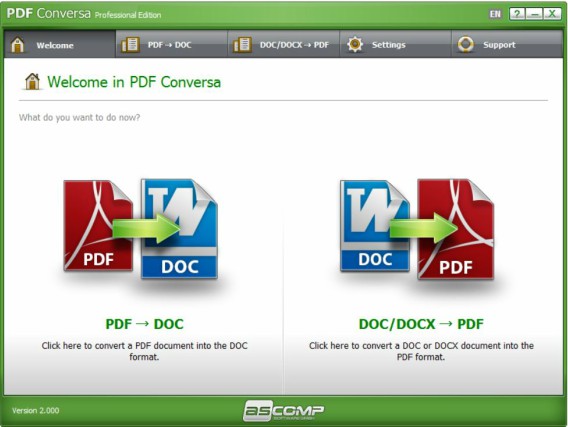 Continue reading »
Ashampoo Office is an alternative office suite for Microsoft Office. Ashampoo Office offers all the standard features for create and edit documents, spreadsheets, and presentation files. It brings three main modules – Ashampoo TextMaker for text processing with extensive support for letters, flyers, leaflets and scientific documents, Ashampoo PlanMaker handles spreadsheets with 330 built-in formulas to create tables, calculations, and diagrams, and Ashampoo Presentations for used to create presentation slides.
Ashampoo Office comes with easy-to-use user interface and supports more than 14 languages. The program also designed to allows users installed and launch on a USB device.
Ashampoo TextMaker supports file in the formats TMD (native program format), DOC, DOCX, ODT, RTF, TXT, HTM.
Ashampoo PlanMaker work with file formats, such as TXT, CSV, PRN, DIB, DBF, RTF, SLK, SDC, PMW, XLT, XLTX, XLTM, XLS, XLSX, XLSM, PMV, PMD.
Ashampoo Presentations supports file in the formats RTF, POT, PPT, PPS, PRV, PRD, PRS.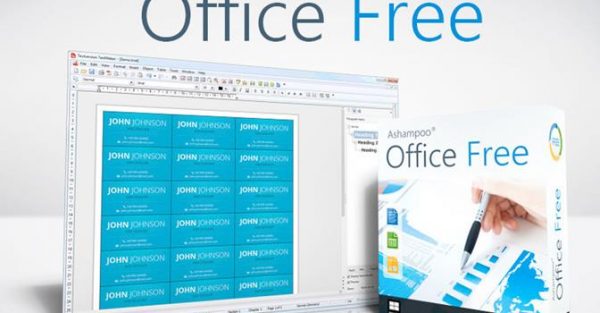 Continue reading »
In daily tasks, most our time waste by clicking through menus and typing repetitive text. Keyboard shortcuts are the easiest way to speed up and increase efficient of your daily tasks, but with the wide variety of software we all use it's hard to remember all the different keyboard shortcuts.
This list will cover the most useful keyboard shortcuts that every Microsoft Outlook Web App user should know. If you haven't used keyboard shortcuts much, these keyboard shortcuts will show how to navigate the items at the top of the Outlook Web App, how to use Right and Left arrow keys to move among Mail, Calendar, People, and Tasks, how to use Tab key to move information, options, search, and help.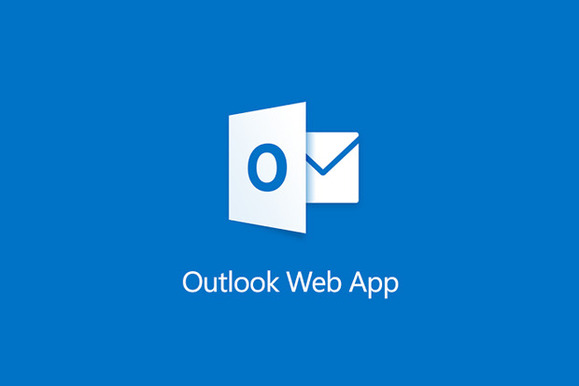 Continue reading »

 Convert any files format such as Word, Excel, PPT to PDF format is easy. You can easily choose from opt in list to convert file format to PDF format. But when come to PDF convert to Word, Excel, Html file format, user could chaos and spend too much time in convert file to PDF. Now you can convert file to PDF format in batches (book, contract) with All PDF Converter.
All PDF Converter features one click button that allows users convert PDF files to 7 types format such as Word, Excel, EPUB, HTML, Image, Txt, XML in short time while retaining the original layouts and format to ensure keep file quality as original format.
To get started, user just need add a PDF document that willing to convert by either dragging or dropping it or by clicking the "Add files" button to convert. User able to choose the convert format and set specified page range convert.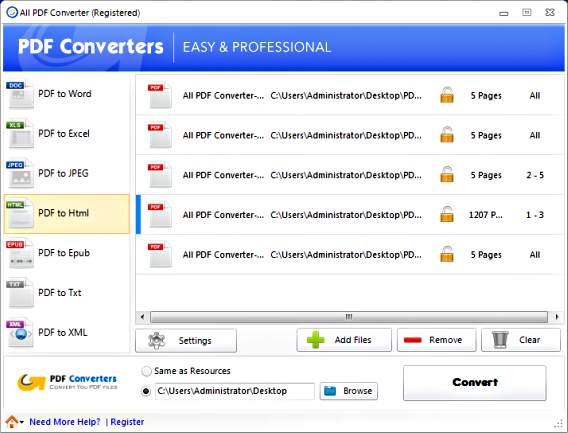 Continue reading »