Browsing articles in "Databases"
An advanced and feature rich data backup software  – Backup4all that designed to protect valuable data files from partial or total loss by automating backup tasks, password protecting and compressing data to save storage space.
Backup4all has ZIP64 support and able to creates standard zip files, so that users can easily access in any zip compatible utility. In addition, the software also can back-up open or locked files such as databases, in-use mail accounts (i.e. Microsoft Outlook personal folder), opened Office files and others.
It comes with intuitive interface to let users easily define and run backup jobs or restore backed up data. With Backup4all, users can easily backup to multiple destinations – Local – back-up to the local HDD or to DVD, CD, Blu-ray/HD-DVD, External – back-up to external HDDs (USB/Firewire enclosures) or removable media (i.e. USB drives), Network – back-up to network destinations (including mapped network drives).
Backup4all available in 4 version – Backup4all Lite, Backup4all Standard, Backup4all Professional and Backup4all Portable.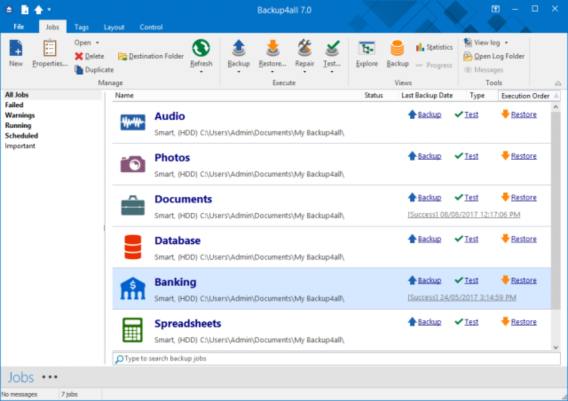 Features of Backup4all:
Powerful filtering engine with variety of options including filter by attribute, size, date, name and type
Multiple backup job configurations – full backup, differential backup, incremental backup and mirror backup
Back up open files (local) from NTFS partitions in Windows Vista, XP, 2003, 2008 Server and Windows 7, thanks to the Volume Shadow Copy service
Predefined backups like My Documents, My Pictures, Outlook Express, Microsoft Outlook, Mozilla Thunderbird or IE Favorites
Backup and test operations can be paused, resumed or stopped
Schedule backups thanks to Windows scheduler
Mirror backup with individual file compression and encryption
Mirror backup copies NTFS permissions and alternate streams
MSI setup for automatic deployment
Backup summary/statistics
Automatic updates capability
Backup4all normally cost $49.99 for purchase. As part of promotional offer, the company is giving away free Backup4all Lite (Worth $19.99) to everyone at no cost. To grab the free genuine license key of Backup4all Lite, just follow below:
Go to promotional page HERE.
Register by fill in the necessary information to obtain genuine license key.
Once fill in, click on "Get free key" to submit.
An email from Backup4all will send to register email address containing with license series key code.
Follow email instruction to complete the process.
Backup4all compatible with Windows 10, 8, 7, Vista, XP, Windows Server 2016, 2012, 2008 Server/2003 Server.
You can share or follow us on Twitter, add us to your circle on Google+ or like our Facebook page to keep yourself updated on all the latest info from Microsoft, Google, Apple and the Web.
Lock Pages in Memory is a Windows security setting policy that determines which accounts can use a process to keep data in physical memory, which prevents the system from paging the data to virtual memory on disk, directly improves the response time speed of the process, especially data-intensive program such as SQL Server database management system, as access time from RAM is definitely faster than disk I/O.
Continue reading »
MySQL Workbench is the next-generation visual database design tool. MySQL Workbench is the successor to DBDesigner 4 from FabForce, and database administrator (DBA) or MySQL developer can use the utility to design, model, create, manage, maintain and document database schemata in a single, seamless environment for the MySQL database system.
Continue reading »
MySQL database has built-in full-text search capability that allows SQL queries to perform search quickly using MySQL database engine. The full-text search capability depends on the FULLTEXT index which is been created on various table fields or columns. However, some search queries may not return the experted results or datasets, even though the data is verified to exists on full-text search, especially on short keywords or search terms.
Continue reading »