Browsing articles tagged with "Apple iPod touch Archives - Tip and Trick"
Apple has released iOS 10.3.2 final version to iPhone, iPad, iPod touch, along with macOS Sierra 10.12.5, watchOS 3.2.2, tvOS 10.2.1; while macOS server 5.3 and Xcode 8.3.2 for registered developers. iOS 10.3.2 is now available as free over-the-air update or downloaded via iTunes for all iOS users with a compatible device.
The updates include bug fixes and security to add an extra layer of reliability, stability compare with its previous version.
Continue reading »
The most eagerly awaited latest version of iOS 10 – iOS 10.1.1 has arrived as on Over-the-Air download for to iPhone, iPad, and iPod touch. iOS 10 comes along with all-new redesigned lock screen, 3D touch-powered interactive widgets, interactive notifications, tapback feature that allows to respond a message, raise to wake feature that instantly turns on iPhone screen, Stock Apple apps can be removable and reloaded from the App Store, and much more.
iOS users can update the device itself from OTA by head to Settings > General > Software Update. For iOS users those prefer for fresh restore / update to iOS 10 on their iPhone, iPad, or iPod touch, can manually download and update the firmware by using the direct links of IPSW files.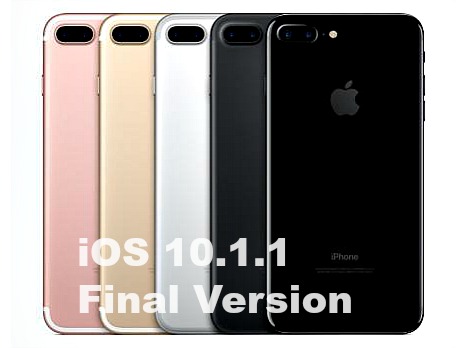 Continue reading »
The wait is finally over! Apple has officially released it final version of iOS 9.3.5 to public with live download links (IPSW files) available for all compatible iPhone, iPad, and iPod touch devices ahead of next major iPhone operating system, iOS 10 release which is expected in September.
A final version of iOS 9.3 has been released for iPhones and iPads, plus iPod touch with a number of new and notable features. Apple iOS 9.3 first beta has rolling out to its developers and public beta testers since early January.
The final stable version of Apple's latest iOS, iOS 9.1 has been released for download (IPSW download links) for supported iPhone, iPad, and iPod touch devices. The final version of iOS 9.1 includes lots of new features and improvement including over 150 new emoji characters, live photos now sense iOS users raise or lower device so that not record these movement, Apple News app, improved stability for apps, improved performance in Multitasking UI, and more. Besides that, iOS 9.1 also bring bug fixes such as fixes an issue that prevented Game Center from launch, fixes an issue that prevented some apps from updating from App Store, and etc.
Apple has officially released the next version of iOS mobile operating system – iOS 9.0.1, a minor update after released iOS 9 on September 16th. The latest iOS 9.0.1 update comes with several bug fixes to solve issue where some iOS users have experienced with Setup Assistant app getting freeze on "Slide to Upgrade" that prevented users from being upgrade their iPhones, iPads and iPod Touch devices. The update also fixes a issue with alarms and timers failing to play, setting up a cutom APN could disable cellular connections, and Safari or Photos app could distort a video if it was paused during playback.
iTunes 12.2 is out. The new version of iTunes is rolling out for Mac and Windows PCs ahead of iOS 8.4 released and OS X Yosemite 10.10.4 update for the Mac. iTunes 12.2 comes with support for the new Apple Music, Beats 1 global Internet radio, and includes bunch of exciting features.
Apple iOS 8.4, another Apple iOS updated has released to iPhone, iPad, and iPod touch with bringing enhancements and fixes to the iOS and comes together with the company's most anticipated services, Apple Music.
Apple Music will be available immediately after iOS 8.4 is installed with located within the Music app that lets iOS users listen to music from any genre, or a live global radio stream via Beats 1. Apple Music is available for free 3 months in over 100 countries.