Browsing articles tagged with "Microsoft Surface Archives - Tip and Trick"
If you are Microsoft Surface lover but think that its weight is too heavy to be carried around, Microsoft has unveiled in big education event at New York City its absolutely stunning new Surface Laptop which comes with thin, light, and first Surface come preloaded with Windows 10 S.
The new Surface Laptop is a revolutionary device for higher-education students and professionals surfing the web, reading and sending email, reading e-books, viewing photos, and so forth.
Surface Laptop sporting with thinnest 13.5-inch PixelSense LCD touch display with 3.4 million pixels, intel core i5 and i7 processors, 4GB of RAM, 128GB of SSD storage, and battery life last more than 14.5 hours. In addition, Microsoft also claims that the Surface Laptop is faster than the i7 MacBook Pro and battery life last than MacBook Air.
Continue reading »
The Windows team has just rolling out an update to the Surface 3 device. Surface 3 users should see new firmware update hit their systems. The update, for most users, should take about five to ten minutes to download and install and will require a restart of Surface 3 device when completed.
If you are using Microsoft Surface Pro 4 and Surface Book, here is a good news for you. Microsoft has released a new firmware updates for Surface Pro 4 and Surface Book to public which comes with bug fixes and improvements, including fixes for Intel drivers. This new system firmware update is purpose to solved most of the problems plaguing users such as the Windows Hello camera wouldn't switch on prior to login, and screen sleep state turning permanent.
The new official and latest firmware updates for Surface Pro and Surface Pro 2 tablets have been released. The new firmware updates is packed with improvements to stability and quality as well as eliminates instances where the device wakes randomly.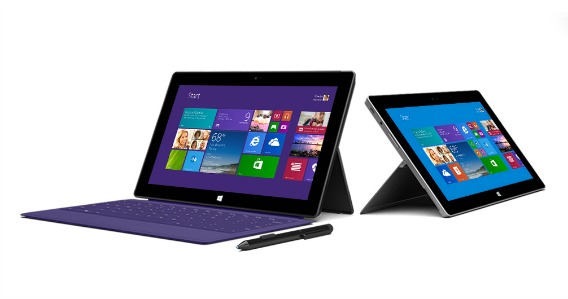 Here the details of latest firmware updates:
Continue reading »
Surface Pro 4 is the most attractive and elegant tablet/laptop Windows 10 hybrid from Microsoft that same as its predecessor Surface Pro 3 2-in-1 PC. Surface Tablets has successful sale in United States since February 9, 2013, and now the first time Surface officially entering India market with the launch of new Surface Pro 4 and the older Surface Pro 3 at Microsoft event in New Delhi.
The long anticipated Surface Book and Surface Pro 4 are going on sale in US and Canada but seems that the glitch never end with the recent various problems such as Camera not work. Just recently, some early users have reported slow Wi-Fi connection issue on their new Surface Book and Surface Pro 4.
Microsoft has official announced Surface Book and Surface Pro 4 are now available for purchase through various Microsoft Stores, Amazon and Best Buy in the US and Canada with starting price $1,499 and $899. Both Surface Book and Surface Pro 4 are powered by sixth-generation Intel Core (Skylake) processors, come with up to 16GB of RAM, 1TB of storage, and camera 8MP rear 5MP front.
While Surface Book and Surface Pro 4 continues selling to millions of users, some customers are start experience various problems such as rear camera no autofocus and colour noise while using the camera. Some users are having trouble with the camera focus just blinks, unavailable to take a picture and print screen.
Tablets are great consumption devices. Media looks great on a portable screen, users can just shove in bag when they are done, but actually being productive on one is a pipe dream. Microsoft makes it again with latest introduce Surface Pro 4 at the Windows 10 devices event. While it looks similar to the predecessor, Microsoft is calling the Surface Pro 4 the most powerful, productive, and lighter tablet ever made.