The powerful and advanced all-in-one system cleaner software – Secure Eraser which designed to perform permanently delete files and folders with 3 main mode; secure file deletion, system cleaning, and registry cleaning, as well as clean all evidence of PC and Internet activities.
When delete file from PC, it is normally done in partially, so that you lose access to that file, but the file isn't completely delete from hard drive. With secure file deletion mode, the program can perform completely erased file. While system cleaning is freeing up space on the hard drive with clear up temporary files, Internet Explorer settings, Recycle Bin, and every trace of previously deleted files. For registry cleaning mode, it allows to choose which types of registry entries want to scanned and deletion.
Each mode comes with different level of security and different processing time. To change the method used for cleaning a hard drive or partition, just click the small arrow next to the Start deletion button to pick from the drop-down menu.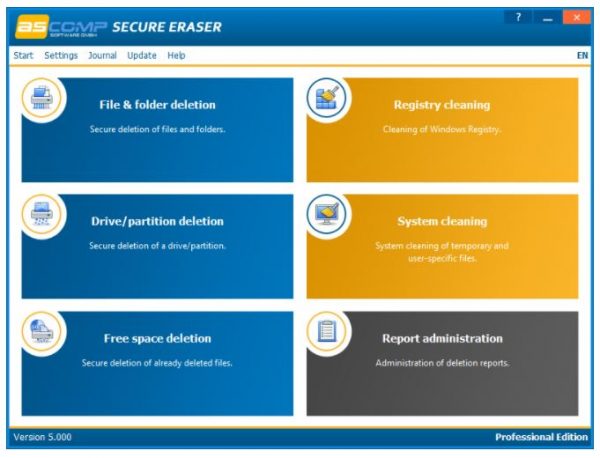 Features of ASCOMP Secure Eraser:
Completely delete and clean files and drives securely
Windows file deletion functions delete files just apparently
Applying five well-known and acknowledged deletion standards
Deletes sensitive data irretrievably
Easy to use user interface
ASCOMP Secure Eraser normally cost $20 for purchase. In partnership with CHIP, the company ASCOMP Software is giving away free copies of the ASCOMP Secure Eraser to the interested users. This time-limited giveaway promotion will end anytime, so hurry up!
To grab a free copies of the ASCOMP Secure Eraser, just follow the steps below:
Visit the promotion page HERE
Fill in your name and email address, and then press "Send" button.
An email (from ASCOMP Software) which contains a free registration license serial key and download link of the ASCOMP Secure Eraser will be delivered to registered email inbox.
Follow email instruction to download and setup license key to activate to full version.
ASCOMP Secure Eraser works in Windows 10, Windows 8, Windows 7, Windows Vista, and Windows XP, as well as Windows Server 2012, 2008, and 2003.
You can share or follow us on Twitter, add us to your circle on Google+ or like our Facebook page to keep yourself updated on all the latest info from Microsoft, Google, Apple and the Web.