The most famous photo sharing app – Instagram, recently added video features that allow users to post filtered videos to their picture collections. With Instagram's arrival of video features, video auto-play is turned on by default. The video auto-play perhaps the amount of bandwidth over time, especially for who follow a lot of people posting videos and subscribe a 3G or LTE connection service. However, video auto-play features can disable by users with some simple tricks.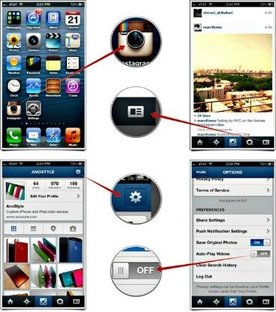 Here how to disable Video Auto-Playing In Instagram
Launch the Instagram app from the Home screen of your device.
From the home page, tap the Profile tab on the bottom right corner.
On the profile screen, tap on the Options in the upper right hand corner. For iOS, tap in the top right corner; for Android, tap right the three vertical dots.
Scroll down to preferences/account on the device and then you will see an option/checkbox labeled for Auto-Play videos. Slider/Uncheck to disable Auto-Play videos features.