A smartphone or tablet is an indispensable tool for everyday living. Many people rely on their smartphones to do numerous activities, like sending emails, social networking, web browsing, and conduct monetary transactions.
If you've just bought a new Android smartphone or tablet and looking to pack it with the finest app offerings on Google Play, here the 3 Android Apps of the Week. All of the apps we feature can be found easily on Google Play Store with searching the app name.

SkyMotion
SkyMotion is a free up-to-the-minute weather tracking app comes to the web. SkyMotion uses GPS to automatically detect user location among more than 16,000,000 zones across North America. It provides weather data in real-time included how much it will rain, sleet, hail, or snow on a minute-by-minute basis and up to two hours in advance.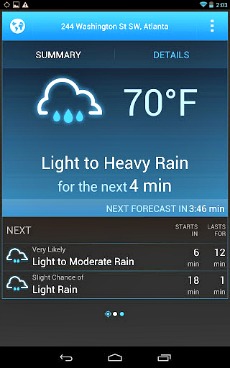 Pandora is an internet radio app that available to stream music on device and allows users to create customized stations based on their favorite artist, band, or song. Pandora app is fully integrated with Pandora on the web. Pandora features hundreds of music and comedy genre stations ranging from Dubstep to Smooth Jazz to Power Workout. Besides that, users also can create up to 100 stations so that can easily switch between favorites. Pandora Internet Radio able to download free from the Google Play Store. Note: Pandora may use large amounts of data and carrier data charges may apply.
Basis Basis Fitness & Sleep Tracker
Basis Basis Fitness & Sleep Tracker is a fitness app that can automatically detect when users are asleep or working out. The app will display users a daily summary with everything from sleep quality to resting heart rate to calories burned. It will sync automatically in the background so that all data will be in the app. In addition, users also can view the progress in one-week increments. The app allow for automatic syncing over Bluetooth and phone push notifications to notify users progress throughout the day and remind users to stay motivated.