Browsing articles in "Internet"

MediaMax is an online storage space service provider that gives users a whopping 25 GB of disk space for storage of videos, movies, music, songs, photos, pictures and any files. However, MediaMax, powered by Steamload is not as good as it looks, as unlike MediaFire, ADrive or MyBloop, it place strict limitations on the download bandwidth and the maximum file size.
Continue reading »
The well-known American computer software company headquartered in San Jose, California, USA, Adobe Systems Incorporated has updated its Photoshop Express free rich Internet application (RIA) with Flickr support. Means that you can download photos from your Flickr account into Photoshop Express, edit and add effects to them, then send them back into Flickr to share with the community, aiming to enhance your sharing experience.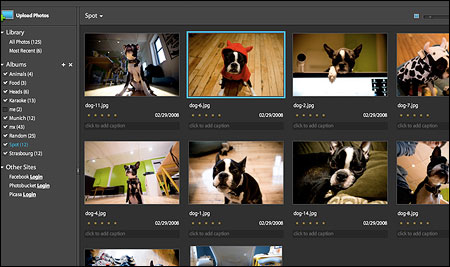 Continue reading »
Getting tired of searching for your misplaced mobile phone at home? You may want to try this online service. Named as PhonemyPhone, it is a free online web service that can help you to locate you mobile phone in few simple steps. Not involving any special or sophisticated technology, it simply makes a free voice call to your mobile phone through internet service without incurring any additional cost on your desk phone.
Continue reading »

Feeling fed up and frustrated with eBay? Having difficulties to log in to your personalized eBay page? Not feeling happy with eBay's fees and charging policies? Having problems with the eBay system in getting your money back? Well, if you think your endurance has reached a limit and you want to put a stop to these problems, a new online auction site called Fididel which has just been launched might be your eBay alternative platform.
Continue reading »
Flex GIF Animator is a graphic editor that helps users to create animated GIF, Flash, Quicktime movie and self-play animations with real-time 3D effects, which can then embed on website as banner, ads or web buttons, use in PowerPoint presentations, or simply send to friends for fun viewing. Flex GIF Animator is optimized for smallest target file size or compression ratio with before-and-after animated previews with real time optimized results.
Continue reading »
Want to create a booklet from PDF documents you have? BookletCreator is a free online tool that allows user to create a booklet from a PDF document. After users upload the PDF document in "Portrait" paper orientation, Booklet Creator will reorder the pages from the PDF document into booklet format, which after printing and folding the printed pages, there is a small book.
Continue reading »
In WordPress 2.5 and WordPress 2.5.1, when the option is set to email post author whenever a comment is posted (comments_notify = 1), no notification email is generated or sent to notify the post author if the comment is held in moderation queue and is only approved later via edit-comments.php.
Continue reading »
If 50 GB free storage space by ADrive is not enough for you, and you dare to try and believe that other online free storage and backup space service that offers bigger, as good as unlimited free space with no expiry date that will get the files uploaded removed or deleted, can last longer than ADrive, MyBloop is another good bet (and probably best bet if it lasts).
Continue reading »