Browsing articles in "Internet"
YouTube users sometime might be wonder who were the viewers visiting their uploaded video or how these people can find the video. To assist users to track the amount as well as the source of these visitors, Google Analytics has added a tracking feature in YouTube which allow users to do the tracking. Use the following tip and trick to track viewers statistics.
Continue reading »
The latest version of WordPress 2.5 has been officially released for free download, after 2 release candidates and several delays in schedule. However, the wait is worth waiting for, as WordPress 2.5 features lots of improvements and enhancements such as multi-file uploading, one-click plugin upgrades, built-in galleries, customizable dashboard, salted passwords and cookie encryption, media library, a WYSIWYG that doesn't mess with your code, concurrent post editing protection, full-screen writing, and search that covers posts and pages.
Continue reading »

Have interesting feed (RSS or Atom) that want to share with website or blog readers? (Subscribe to Tip and Trick feed) It's possible to display and show feed contents on another website or blog to encourage readers to visit origin blog or site, and thus boosting both traffic. Showcasing contents from another blog by displaying its feed also useful for bloggers who have multiple blogs that want to cross-reference between each other to increase traffic, or want to combine several feeds to show in one portal or post.
Continue reading »

The well-known company providing award-winning technologies and software, Adobe Systems Incorporated has announced the launch of its long-anticipated Adobe Photoshop Express public beta, the free Rich Internet Application (RIA) aimed at the consumers who wants a simple way to sort, share, store and manage their beloved photos.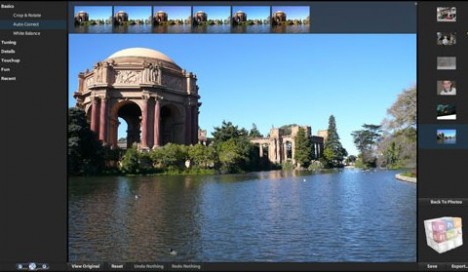 Continue reading »
After upgrading to WordPress 2.5 RC2, some WordPress iinstallation will return completely blank web page or all blog posts, pages and even wp-admin administrator dashboard and other administrative panel. Or the following error will be displayed (the error message will also be logged and captured in Apache error_log).
Continue reading »
Despite saying that WordPress 2.5 is basically done and stable when introducing WordPress 2.5 RC1 (Release Candidate 1) as sneak peek, there are still must fix bugs that must be ironed out, and thus the final RTM version of WordPress 2.5 continue to delay, although it's already behind schedule.
Continue reading »
There are billions of websites containing all sorts of materials e.g. politic, culture, hobby, medical, sex, junk, pornography, etc which give you endless access into them. Definitely it is impossible for users to access and browse all the websites available. Net users will only browse the relevant websites and organize them probably. Net users will organize their favourite web sites and bookmark them in accordance to individual styles and formats. Using bookmark and favourite functions in the browsers such as IE or Firefox is convenient and easy. However, the built in bookmark functions available in the browsers are not manageable.
Continue reading »
Each web pages on Internet will normally has a title that is displayed on the top of all web browsers, and become description or title for the tab on tabbed-browsing support browsers such as Firefox and IE7 or IE8, and also as descriptive text when the browser window is minimized to taskbar. The webpage title is also important for SEO, acronym for search engine optimization, which intends to promote and improve the ranking of the page and site on search engines.
Continue reading »