The well-known company providing award-winning technologies and software, Adobe Systems Incorporated has announced the launch of its long-anticipated Adobe Photoshop Express public beta, the free Rich Internet Application (RIA) aimed at the consumers who wants a simple way to sort, share, store and manage their beloved photos.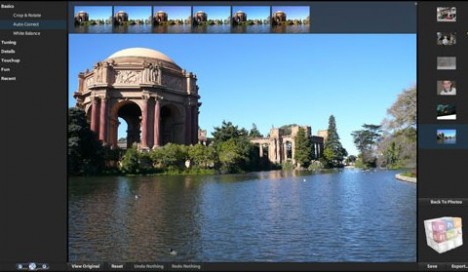 "Photoshop is trusted technology that has changed the visual landscape of our world. Now, Photoshop Express allows anyone who snaps a digital photo to easily achieve the high-impact results for which Adobe is known," said Doug Mack, vice president of Consumer and Hosted Solutions at Adobe. "Photoshop Express is a convenient, single destination where you can store, edit and share photos whether you're at home, school or on the road."
Some features of Photoshop Express are:
Includes tools for applying spot healing, distortions, sharpening/softening, color tweaks, image filters, and more.
Offers 2GB of space for storing images.
Supports tie-ins to or integrate with a number of popular social networking websites such as Facebook, Photobucket, MySpace, and Picasa.
Runs in any browser on Mac, Windows, or Linux using the Flash Player (v9).
Will include an AIR-based desktop version (useful for editing images offline) and printing services.
Will remain free, with paid service adding more functionality.
The Adobe Photoshop Express beta is available now for free with 2GB of memory storage. Users can take a test drive and immediately start using Adobe Photoshop Express without signing up to get a feel of what it's offering and features.