Flex GIF Animator is a graphic editor that helps users to create animated GIF, Flash, Quicktime movie and self-play animations with real-time 3D effects, which can then embed on website as banner, ads or web buttons, use in PowerPoint presentations, or simply send to friends for fun viewing. Flex GIF Animator is optimized for smallest target file size or compression ratio with before-and-after animated previews with real time optimized results.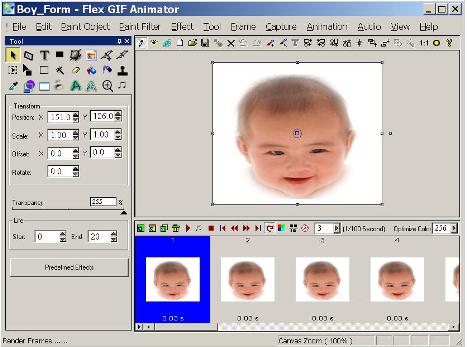 Flex GIF Annimator supports pixel painter and vector graphic draw, support creating objects tween animation, and has a flexible palette options for full control over colors and built-in Windows trick banner maker, screen capturer, morpher, and nature image matting tool. User can export the animation to video, EXE, and Flash formats, or import from these formats to become GIF animations. It can also convert .jpg, .ico, .bmp and more, including screen capture to .gif automatically, or convert the GIFs to grayscale and reverse the animation in the GIF. Beside, user can use the built-in audio recorder to add audio or import sound to the GIF created.
With such a powerful features, Flex GIF Animator costs $49 for one personal license. Giveawayoftheday is giving Flex GIF Animator away for free on today (May 5th 2008). However, the registration process is rather absorb. But nothing beats free, and it's good to try your luck if you're using or in need of a GIF animator or editor.
Download the presumably free Flex GIF Animator (version 8.54).
Unpack the ZIP archive and run activate.exe followed by setup.exe to install Flex GIF Animator. Upon running Flex GIF Animator, you will receive a dialog box with further instruction of steps to perform to register the Flex GIF Animator as full version product.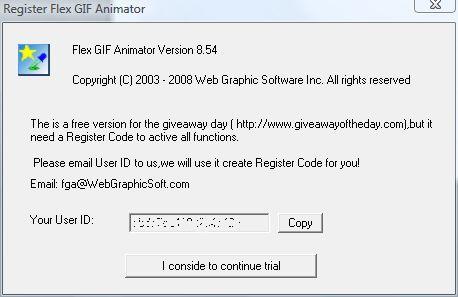 Basically, user is required to send the unique User ID that appears on the dialog box on screen by email to [email protected] Make sure the value of "Your User ID" is copied properly, as simply pressing "Copy" button will have front and end characters dropped. Then, wait for a reply email with a reg code and a link to download another version of the program. Whether this email will be sent or not is mystery, as a lot of senders also yet to receive it. Then, uninstall the version installed just now which are downloaded from GAOTD, and install the new version downloaded from link in the email. Upon running the new second version, a dialog will ask you to enter the register code, and a "Register is successful" window will appear if Flex GIF Animator is successfully converted from trial version to full license version.
Note that even with activate.exe ran, the GAOTD version of Flex GIF Animator is still a trial version, with a BIG DEMO watermark on all GIF or animations created