Browsing articles in "Utilities"
After installing AVG Anti-Virus 8.0 or AVG Internet Security 8.0, the Internet network connection significantly slowdown. Browsing and surfing Internet web pages and websites using Internet Explorer (IE such as IE7) or Firefox web browser, the speed slow to a crawl. Intermittently (actually is frequently), web browser can't even connect to websites or web servers, and loading of web pages fail.
Continue reading »
CCleaner is one of the powerful computer cleansers which can remove unused files and achieve system optimization. By removing all these unused files such as cookies, temporary files, history, log files, download history, recent documents, and so on, your computer system is able to perform better and more hard disk space will be freed up. Besides that, CCleaner also feature sregistry scanning function. It has advanced features to remove unused and old entries, including File Extensions, ActiveX Controls, ClassIDs, ProgIDs, Uninstallers, Shared DLLs, Fonts, Help Files, Application Paths, Icons, and Invalid Shortcuts.
Continue reading »
iolo AntiVirus probably not as famous as AVG AntiVirus, Avira AntiVir, avast! Anti-Virus and ESET NOD32, but its virus scanning and protection engine has also been certified by West Coast Labs Checkmark, and is the same anti-virus engine used in iolo System Mechanic Professional. iolo AntiVirus features advanced real-time technology that provides continuous maximum protection and automatically detects, repels and removes viruses before they can attack the computer without degradign system performance, with on-demand scanning always available.
Continue reading »
Ashampoo Magical Defrag 1.2 is a disk defragmentation tool which intends to resolve issue Windows takes longer and longer to find data on hard disk due to files get split up into more and more fragments stored in different places all over the disk. Ashampoo Magical Defrag 1.2 can defragment the hard disk automatically and "invisibly" in the background, with ability to pause defragmentation automatically as soon as other programs require processor capacity or access the hard disk.
Continue reading »
O&O DiskImage 2 is a disk cloning software that can perform either an incremental imaging, 1 to 1 forensic image or normal image of an entire operating system on used sectors, from whole hard disks or individual partitions. Taking an image of hard disk drive is making a copy of stored data, essential for system recovery, restore to previous state, speedily install many other similar computer to functional state or perform hard drive upgrade purpose, thus preventing possible data loss.
Continue reading »
WinRAR is probably one of the most commonly used file archiver or data compression and decompression utility on Windows desktop nowadays, in view of increasing popularity of .RAR archiving format, plus built-in support for .ZIP de-facto compression format. However, the application was created in Windows 9x and XP era, thus the design is little out-of-date and does not change even in Windows Vista, which emphasis on visual effect and beautiful appearance.
Continue reading »
How you normally get an updates from your favorite websites without personally browsing them? RSS is a good way but the problem is not all websites supporting it. I used to browse my favorite websites that are bookmarked earlier one by one until I discover this. Known as WebMon 1.0.11, it is a tiny software utility that helps to monitor any updates from your favorite websites periodically without any miss.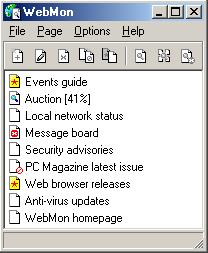 Continue reading »
Desktop Maestro from PC Tools, the developer for the popular Spyware Doctor, is an all-in-one application that integrates registry cleaning, system monitoring and privacy cleaning. Desktop Maestro combines the features from Registry Mechanic and Privacy Guardian to ensure that users have all the tools to clean and compact your registry, monitor your system to optimize your PC for optimal better performance and stability, and protect your privacy by cleaning traces of online and computer activities.
Continue reading »