Browsing articles in "Utilities"
Your Inbox might be flushed with thousands of email everyday. To search and find for some messages downloaded a couple of weeks or months ago surely is a tedious job and definitely consumes a lot of your time. If you are using the Microsoft Outlook email application that comes along in your Microsoft suite, you could try out Xobni, a useful plug-in to Microsoft Outlook to help you manage your Inbox more efficiently.
Continue reading »
Even wonder how fast your PC boot up from BIOS (Basic Input/Output System) to OS (Operating System)? Generally PC system boots up relatively fast but over time, it may take longer time for your PC to boot to operating system. If you would like to find out how your PC performance is, here is a good and simple software utility that you can use on your Windows based system. Named as BootTimer, it has the capability to measure the boot time start from bootloader until the handling being passed to OS to move on with proper applications loading.
Continue reading »
There are plenty of CD and DVD optical disc authoring and burning software available, such as Nero Burning ROM, Roxio Easy Media Creator, Alcohol 120% and many other. Ashampoo Burning Studio is one of such CD/DVD/Blu-ray burning software, and is one of the most known products from Ashampoo, and one of the most used alternatives to Nero Burning ROM on Windows.
Continue reading »
There're some people who need O&O SafeErase which permanently wipe off data, but probably there are more who needs O&O UnErase, a software utility that makes the restoration of deleted data as easy as "a walk in the park". With the help of a new and one-of-a-kind algorithm, more files can be restored than ever before. Within a matter of seconds, O&O UnErase finds your deleted files and restores them with just the click of a button, no matter where is the deleted files located, be it hard disk drives, removable media, floppy drives, memory cards or digital cameras. The original filename and directory structure are also restored as if nothing had been deleted in the first place.
Continue reading »
O&O SafeErase 1 is a data security software program that performs secure deletion of sensitive data from hard disk in order to ensure complete removal and destruction of the deleted files. Normally, when files are deleted and erased from Windows operating system, actually only the identifier or reference descriptor to the files are removed, while the data of the files still exist physically on the hard disk, which can still be accessed with files recovery tool software.
Note: If you're looking for tool to recovery deleted files, look at O&O UnErase with free license.
Continue reading »
Presentation is an essential corporate communication tool to market your services or products to potential clients. An impressive presentation can make or break a deal. Nowadays with various presentation programs available such as Microsoft PowerPoint, OpenOffice.org Impress or Apple Keynote, the presentation process has been made much easier. You can generate the contents in a presentation file conveniently with these programs. The built in functions in these programs will help you to create an interesting presentation show. To make the presentation more interactive and interesting, besides utilizing attractive slides, perhaps you can also consider this little tool to help. This little application, ZoomIt v1.8, is a screen zoom and annotation tool that can help you to grab your audience's interest and focus their attention to a specific spot. Besides, you can also use your mouse to draw lines on a specific area or type some messages. The lines and messages will temporary appear on your screen and they will be removed once you press "Escape".
Continue reading »
O&O Defrag is a disk defragmentation software that optimizes hard disk drive in Windows NT, XP Home, Windows XP Professional and Windows 2000 Professional by securely repacking fragmented files together for more efficiency and boosting performance. Fragmented files increase time system used to read them, and thus slowdown the system with higher I/O activity.
Continue reading »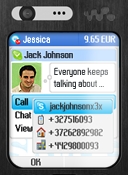 The free internet call program, Skype, lately released a beta application for Java-enabled mobiles. This mini beta version of Skype allows users to download it to their mobile phones and access all the Skype features such as instant messenger, group chat, making and receiving calls. For this current release, the beta version of Skype can only support approximately 50 models of Java-enabled mobile phones from four world leading handphone manufacturers, Nokia, Samsung, Motorola and Sony Ericsson. Apart from that, the beta version is also limited to seven countries, Brazil, Denmark, Estonia, Finland, Poland, Sweden, and the U.K. at the moment.
Continue reading »