There are plenty of CD and DVD optical disc authoring and burning software available, such as Nero Burning ROM, Roxio Easy Media Creator, Alcohol 120% and many other. Ashampoo Burning Studio is one of such CD/DVD/Blu-ray burning software, and is one of the most known products from Ashampoo, and one of the most used alternatives to Nero Burning ROM on Windows.

Ashampoo Burning Studio 2008 is express version of full featured Ashampoo Burning Studio 7. Ashampoo Burning Studio 2008 has version number 7.01, and lacks the features of burn movie and video, including Video DVD, Video CD (VCD) or Super Video CD (S-VCD) and newly added Video DVD, and ability to backup and restore files and folders, including support for multi-disc file backup and restore on CD/DVD/Blu-ray with compression and password protection.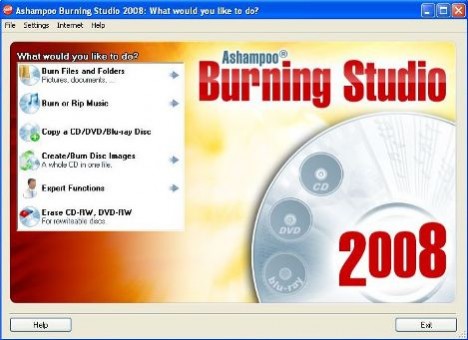 However, Ashampoo Burning Studio 2008 is still a powerful DVD and Blu-Ray authoring and burning software that features ability to burn files and folders to CD/DVD/Blu-ray and add files and folders to existing discs, rip music from audio CDs to MP3, WMA and WAV files, create audio CDs from WAV, MP3, FLAC, WMA and Ogg Vorbis files, create MP3 or WMA CDs, DVDs and Blu-ray discs or just copy music to CD, DVD or Blu-ray, copy CDs, DVDs and Blu-ray discs, create and burn disc images for CD, DVD and Blu-ray, erase any rewritable media, create bootable discs from boot images, and save project files. Ashampoo Burning Studio 2008 can support storing of disc images larger than 2GB on FAT32 file systems, have interactive troubleshooting assistant for solving hardware and media problems, has integrated support for over 1,700 CD, DVD and Blu-ray burner, can add additional files while copying discs, make modified copies of bootable discs.
VNU Computeractive is giving away Ashampoo Burning Studio 2008 free full license key which enables unlimited and no time limit use. Ashampoo Burning Studio 2008 is a special edition that exclusive to Computeractive magazine reader, and cannot be downloaded from Ashampoo website. So, users have to use the direct download links from VNU.
Download ashampoo_burningstudio2008_vnu_gb.exe
Once installed, on first use dialog, the program will ask user for a few options which one is whether want to obtain the free full license key to Ashampoo Burning Studio 2008. Click on the button to launch your web browser to open web page that allows you to register for a free full version license key or registration key. Within program, the option can be accessed from "Internet" drop down menu, or simply browse to this Ashampoo registration page. Free license serial number registration is two-step process. Enter email and submit, and then click on the confirmation link in the email to receive the free serial code.
There is also Ashampoo Burning Studio 6 full unlock free version available.
Update 1: Ashampoo Burning Studio 2009 free download.
Update 2: Ashampoo Burning Studio 2014 Free Full Version License Key Free Download