Browsing articles in "Utilities"
Email has become increasingly common and important in modern business communication or commercial practice. In some countries, an email even constitutes an adequate and formal means of serving notice. Hence, back up of an email account is extremely important in office management nowadays. There are various ways to back up your email. For instance, you can clone your email into a new account so that there is a backup in the event your original email account is corrupted. However, email cloning might not be a total solution. It is a bit messy to clone and manage two or more email accounts. To ensure uninterrupted access to your email account, Amictools has introduced a handy application for Microsoft Windows based PCs, Amic Email Backup, to create backup copy of users' email database.
Continue reading »
Sending SMS or text messaging is a convenient and efficient way to deliver a brief text message to somebody's mobile phone especially something that is difficult to tell through the phone. However, sending SMS texts with a small and tiny mobile phone is sometimes quite tiring. The little key pad and small screen display somehow make your eyes and fingers exhausted. Anyway, if you have updated or used Microsoft Outlook 2007, you can use the built-in text messaging features to type and send your SMS. The process is petty simple; type your new SMS message like the way you compose your new email; once it is done, just click send to deliver your SMS.
Continue reading »
Carrying a notebook around sometimes can be a bit frustrating. You can't leave it in your car as somebody might break the glass and steal it. But to bring it and travel around can be a burden and sort of a torture physically and mentally. Instead of bringing a laptop with you, probably you should consider a portable office suite on your USB flash drive if you need to keep your workspace portable due to your work requirements. We have introduced a portable solution for Windows users using MojoPac in our previous post which can turn any USB 2.0 storage device into a portable computing environment. If MojoPac is not your cup of tea and you are looking for other solutions, perhaps you can try out the Tiny USB Office.
Continue reading »
To better illustrate what is intended to be discussed over the phone or email with counterparts, it is always nice to print screen or capture certain portion of the contents. Before this, I always use print screen which only offers basic feature to capture certain important picture for explanation. But now, I just discovered that there is a better tool that is able to speed up the same process. Known as FastStone Capture, it is a tiny yet powerful screen capture tool that is suitable for daily use, replacing simple 'Print Screen' feature on your PC.
Continue reading »
Users for Microsoft Windows will be quite familiar with the simple text editor, Notepad, which is included with all versions of Windows OS. Even though superseded by other word processor applications such as Microsoft Word, Notepad still has its popularity since it is easy to use and feature a simple interface for basic text operations. Similarly to Notepad, Notepad 2 is another small, fast and free text editor which is applicable for Windows only. However, unlike Notepad, Notepad2 provides the features which can expedite users' text editing works. For instance, it performs code syntax highlighting for HTML and other languages, allows drag and drop text editing inside and outside Notepad 2, it can do basic regular expression search and replace, feature useful word, line and block editing shortcuts, etc.
Continue reading »
ESET NOD32 is another simple but useful and powerful antivirus solution available with advanced features. This antivirus system is user friendly and provides a high level of detection capability. The main selling point of this antivirus system is its free and powerful online virus scanner. ESET NOD32 features an up-to-date online virus scanning tool which only utilizes the web browser to remove malware, spyware, adware, worms, Trojans, etc from computers. Users can carry out the scanning work from ESET without downloading or installing any applications. The scanning process is pretty simple and straightforward.
Continue reading »
In some instances you probably need to make changes or editing to some Registry Keys for your Windows OS. If you edit them manually in the Microsoft Windows Operating System, you can run regedit.exe or regedt32.exe files to make amendments. However, using these built-in regedit methods, you need to browse through numerous directory trees to find the right keys. If you make the wrong amendments, your careless action might cause irreversible damage. To minimize your error and expedite your Registry Keys search, you probably could try this free Registry scanning tool, RegScanner.
Continue reading »
The successor of MS Paint application, Paint.Net is another free digital image and photo editing tool for computers using Windows XP, Windows Vista or Server 2003. This digital image editor was originally a design project of students in Washington State University mentored by Microsoft. It has been gradually improved and developed into a useful, powerful yet simple editing tool. It has a pretty similar interface compared to Adobe Photoshop.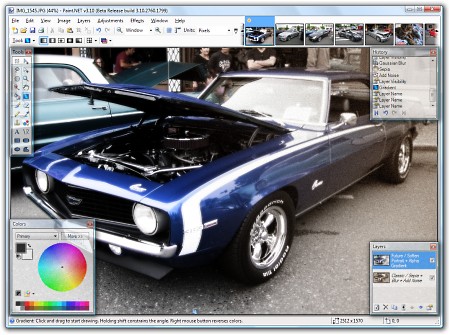 Continue reading »