In some instances you probably need to make changes or editing to some Registry Keys for your Windows OS. If you edit them manually in the Microsoft Windows Operating System, you can run regedit.exe or regedt32.exe files to make amendments. However, using these built-in regedit methods, you need to browse through numerous directory trees to find the right keys. If you make the wrong amendments, your careless action might cause irreversible damage. To minimize your error and expedite your Registry Keys search, you probably could try this free Registry scanning tool, RegScanner.

Designed particularly for the Windows system, RegScanner is a simple yet useful utility which allows users to scan the Windows Registry directory and find the desired registry keys that match the specified search criteria in a faster way. The scanning tool will display the search result in a single page and allow users to make quick edits onto them. Users can double click the desired Registry Keys and jump to the right value in Regedit. Users also can export the found Registry values into a .reg file that can be used in RegEdit. The summary of the RegScanner functions and features are as follows:
• Allows users to make case sensitive search
• Can find a Unicode String in Binary Value
• Exact Matches plus five additional criteria for matching strings.
• Display keys that have been modified in a time range
• Display data of a certain size (in bytes)
• Display only values of a certain type (like DWORD)
• RegScanner utility displays the entire search result at once, so users don't have to press F3 in order to find the next value.
RegScanner is a standalone executable, and it doesn't require any installation process or additional DLLs. Users can execute it by running the executable file. RegScanner 1.63 is the latest version available for downloading. Unlike its older versions, a few bugs have been fixed and it is quite stable under this latest RegScanner 1.63 release.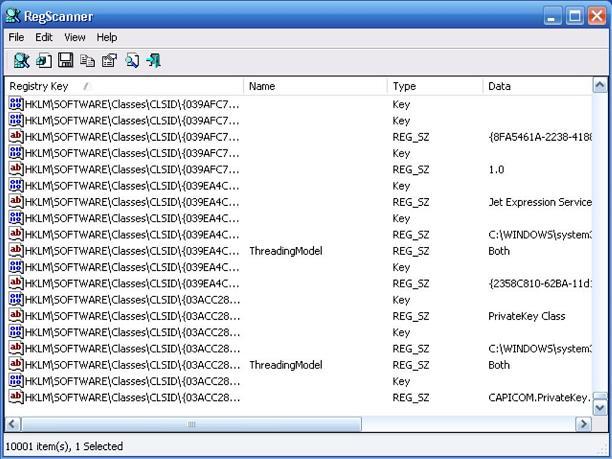 Screenshot of RegScanner