Carrying a notebook around sometimes can be a bit frustrating. You can't leave it in your car as somebody might break the glass and steal it. But to bring it and travel around can be a burden and sort of a torture physically and mentally. Instead of bringing a laptop with you, probably you should consider a portable office suite on your USB flash drive if you need to keep your workspace portable due to your work requirements. We have introduced a portable solution for Windows users using MojoPac in our previous post which can turn any USB 2.0 storage device into a portable computing environment. If MojoPac is not your cup of tea and you are looking for other solutions, perhaps you can try out the Tiny USB Office.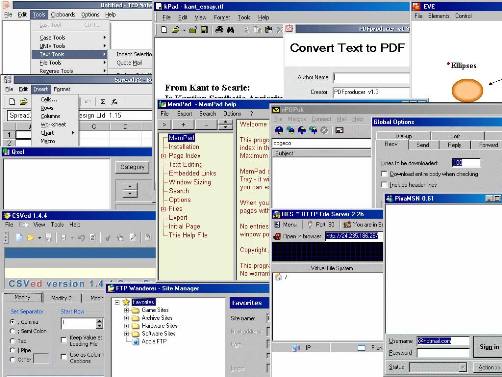 Tiny USB Office is the successor to Floopy Office, a small application suite that fits on a 1.44MB floppy disk. The developer of this free application has improved and enhanced the built-in features and the size has increased to 2.5B. As a result, a 1.44MB floppy disk is no longer usable. The Tiny USB Office features a handful of standalone free software applications which can handle most general office tasks. This tiny office package can help you to create rich-text word processing documents, share files across multiple computers, transfer files, create MS Excel compatible spreadsheets, comma-delimited database files, email your contacts, talk to your friends or co-workers on MSN, create pdf files, or securely encrypt or delete files and so on!
Tiny USB Office Version 1.0 is available via the link here. It will be useful if you have a few offices and you don't want to carry a laptop with you. Having said that, there are many limitations that a tiny USB drive can do. If you are required to process a huge amount of data, then definitely you need to carry a laptop and this tiny application might not help you.
– Database Creation – with CSVed
– Data Encryption – with DScrypt
– Email Client Software – with NPopUK
– File Compression – with 100 Zipper
– File Sharing – with HFS
– File Transfer – with FTP Wanderer
– Flowchart Creation – with EVE Vector Editor
– MSN Messenger Client – with PixaMSN
– Tree-Style Outliner Software – with Mempad
– PDF Creation – with PDF Producer
– Password Recovery – with XPass
– Secure Deletion – with DSdel
– Spreadsheet Creation – with Spread32
– Text Editing – with TedNotepad
– Word Processing – with Kpad
– Program Launching – with Qsel