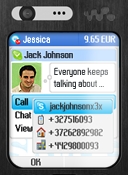 The free internet call program, Skype, lately released a beta application for Java-enabled mobiles. This mini beta version of Skype allows users to download it to their mobile phones and access all the Skype features such as instant messenger, group chat, making and receiving calls. For this current release, the beta version of Skype can only support approximately 50 models of Java-enabled mobile phones from four world leading handphone manufacturers, Nokia, Samsung, Motorola and Sony Ericsson. Apart from that, the beta version is also limited to seven countries, Brazil, Denmark, Estonia, Finland, Poland, Sweden, and the U.K. at the moment.

This beta version of the Skype software is free. To download this application to your mobile phone, you can go to Skype for Mobile website. From the site, you can select your mobile phone's model and proceed with the downloading process. All the mobile phones which support the program will be shown. The developer will update the site from time to time to include more models. There are two download options available. Users can either download the program directly from their phone or download it to the computer and transfer it later. To download the Skype for mobile beta, users need to start up their mobile phone's web browser, enter the link "skype.com/m" and follow the instructions on the screen step by step. If users download it to their computer, they can then transfer it out using devices such as Bluetooth or via USB cable.
The Skype service is however not free. To make calls to the contacts in your Skype contact list, you need to pay the normal national or local rate plus an additional Skype-out fee to your destination. Hence, it is not viable to use this service for local calls. It is more economical if you use it for international calls. For instant messenger service, Skype indicated that there is a data charge from your operator. Skype cites an example: A person with 20 contacts, who's online for 1 hour, IMs for 10 minutes and has a 20 minute call each day will use about 1MB of data per month. The more data you use, the higher your charges will be.