There're some people who need O&O SafeErase which permanently wipe off data, but probably there are more who needs O&O UnErase, a software utility that makes the restoration of deleted data as easy as "a walk in the park". With the help of a new and one-of-a-kind algorithm, more files can be restored than ever before. Within a matter of seconds, O&O UnErase finds your deleted files and restores them with just the click of a button, no matter where is the deleted files located, be it hard disk drives, removable media, floppy drives, memory cards or digital cameras. The original filename and directory structure are also restored as if nothing had been deleted in the first place.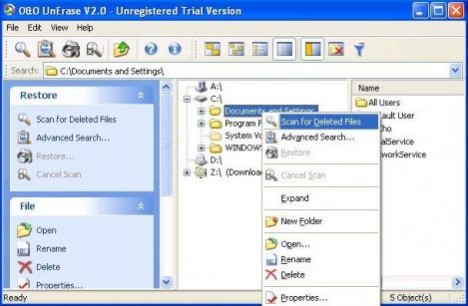 The latest version of O&O UnErase is V4. O&O UnErase 4 has added features such as O&O InstantUnErase for data recovery without any pre-installed software. Older versions don't have such feature but the ability to recover and 'undelete' or 'unerase' any lost, accidentally deleted or removed files is intact. O&O is giving away free license for O&O UnErase V2 which allows users to use O&O UnErase version 2 forever, without time limit and without restriction.
To get the free license in the form of free serial number or registration code, go the the following promotion registration page, and fill in your details. After submitting the data, an email containing user name, company and license serial number which is the registration code will be sent to registrant's mailbox. Then use the serial number to unlock the program to full version product from trial version, where a dialog to ask for serial code whenever user run the UnErase.
Free license registration URL: http://www.oo-software.com/home/en/special/unerase/
As O&O UnErase version 2 is older version product, it has to be donwloaded from O&O Archive Software page, or use the direct download link to OOUnErase2Enu.exe, which is the setup installer of O&O UnErase 2 version 2.0.945.
There is also free license serial key for PC Tools File Recover 6.1.
Update: Free O&O UnErase 6