WinRAR is probably one of the most commonly used file archiver or data compression and decompression utility on Windows desktop nowadays, in view of increasing popularity of .RAR archiving format, plus built-in support for .ZIP de-facto compression format. However, the application was created in Windows 9x and XP era, thus the design is little out-of-date and does not change even in Windows Vista, which emphasis on visual effect and beautiful appearance.

Luckily WinRAR allows user to change the look and feel of the program using theme. Thus, a new theme has been created by an user named AmEagle who dislike the default classic theme, design and icon in WinRAR application. The new theme, named as Vista ULTIMATE Revamped designed to blend into the desktop theme of Windows Vista Ultimate and Aero visual appearance. Here's a screenshot of WinRAR program window after applying the Windows Vista Ultimate 48 x 48 theme.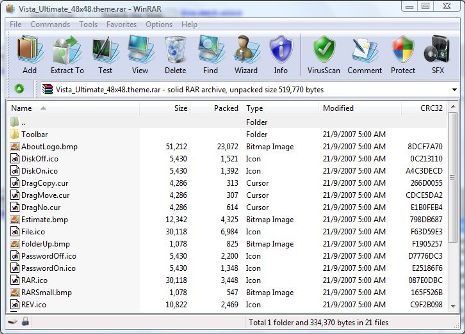 The custom theme for WinRAR will change the icons on the toolbar, cursors, skins and other miscellaneous images on the WinRAR programs. It will also modify the default icon image for .RAR format files to the following icon design.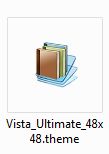 If you interested in overhaul the WinRAR, and want it to be in Windows Vista flavor, download the following theme file for WinRAR. There is a few versions with different toolbar icons' resolution.
Vista ULTIMATE Revamped theme with 48×48 toolbar icons: Vista_Ultimate_48x48.theme.rar
Vista ULTIMATE Revamped theme with 64×64 toolbar icons: Vista_Ultimate_64x64.theme.rar
Vista ULTIMATE Revamped theme with 80×80 toolbar icons: Vista_Ultimate_80x80.theme.rar
Vista ULTIMATE Revamped theme with 96×96 toolbar icons: Vista_Ultimate_96x96.theme.rar
Vista ULTIMATE Revamped theme with 128×128 toolbar icons: Vista_Ultimate_128x128.theme.rar