Spyware Doctor developed by PC Tools is one of the most popular anti-spyware (of course, probably except Windows Defender which comes free with Windows Vista) and spyware removal product. Spyware Doctor scans PC's hard disks, memory, Windows registry and cookies, and attempt to quarantine or move recognized threats to protect users from spywares, browser hijackers, adware, keyloggers and more.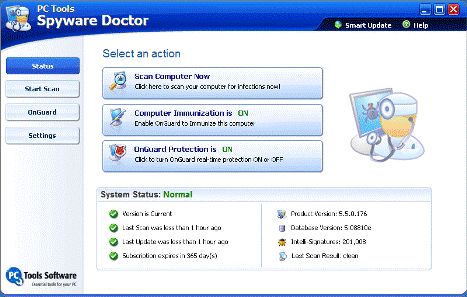 PC Tools gives away a limited functionality version of Spyware Doctor calls Spyware Doctor Starter edition. Spyware Doctor Starter edition has all the essential features of Spyware Doctor, such as protection against and removal of adware and spyware with Intelli-Scan on-demand scanning. However, only limited real-time protection in OnGuard service is included, such as File Guard and Immunizer. Startup Guard, Browser Guard, Process Guard, Cookie Guard, Keylogger Guard, Network Guard and Site Guard real-time protection requires users to upgrade to full paid version of Spyware Doctor. Most importantly, updates is always available for free. See comparison between free and paid edition here.
Spyware Doctor Starter edition is released as part of Google Pack. However, that requires users to download and install Google Updater too. Now, Spyware Doctor Starter Edition standalone setup installer can be downloaded from vnunet.com as part of the free giveaway promotion. The freely downloadable version of Spyware Doctor Starter Edition is the latest version of 5.5.0.212 with update core which is more streamlined and lightweight. Just install to get the program running. No registration, product key, serial code, or license number is needed, and the program works for life without time limit or any other limitation.
Download 5.5.0.212VNU-sdstart.exe.
Spyware Doctor Starter Edition supports Windows Vista 32-bit, XP and 2000. It won't works on Windows Vista 64-bit. If you want something with integrated anti-virus and anti-spyware functionality to replace Windows Defender, check out the free Spyware Doctor with AntiVirus Starter Edition.