When anti-virus software from vendors such as avast! antivirus, Avira AntiVir, ESET NOD32, Norton, Kaspersky, and etc. starts to add anti-spyware feature into originally only anti-virus program, you would expect the antispyware utility to add anti-virus function on top of spyware protection too. And so PC Tools launched Spyware Doctor with AntiVirus, not unexpectedly.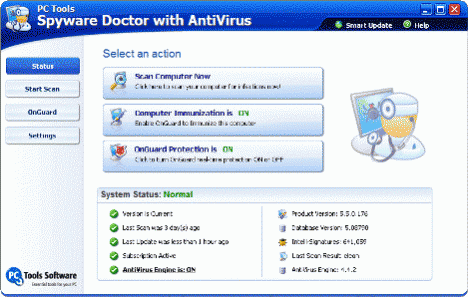 Spyware Doctor with AntiVirus provides complete AntiVirus and AntiSpyware capabilities in one application, and supports detection, removal and blocking of all types of spyware, adware, viruses, Trojans, worms, keyloggers, identity theft, hijackers, tracking threats, rogue anti-spyware, unwanted software, phishing, popups, bad Websites and other malicious attacks.
As with Spyware Doctor Starter edition, Spyware Doctor with Auto-Virus Starter Edition lacks certain advanced features related to OnGuard real-time detection and protection module. However, all basic virus scan and antispyware functions are available for free use. See the features comparison between the free (Starter) edition and paid edition for Spyware Doctor here. For anti-virus module, the features are the same between Starter free edition and paid version.
Spyware Doctor with AntiVirus Starter Edition never expires, and users do not need to renew or pay any subscription fee to receive updates on the virus and spyware definitions. Spyware Doctor with AntiVirus supports Windows Vista 32-bit, XP and 2000, but no support for 64-bit system.
Download Spyware Doctor with Spyware version 5.5.0.212: 5.5.0.212VNU-sdastarter.exe