iolo AntiVirus probably not as famous as AVG AntiVirus, Avira AntiVir, avast! Anti-Virus and ESET NOD32, but its virus scanning and protection engine has also been certified by West Coast Labs Checkmark, and is the same anti-virus engine used in iolo System Mechanic Professional. iolo AntiVirus features advanced real-time technology that provides continuous maximum protection and automatically detects, repels and removes viruses before they can attack the computer without degradign system performance, with on-demand scanning always available.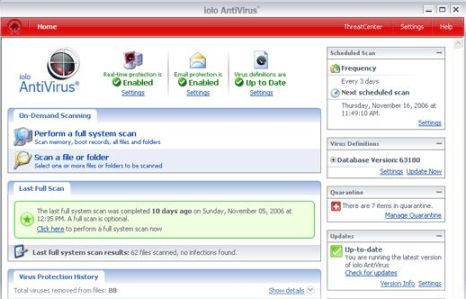 iolo AntiVirus also integrates email protection which supports any POP email client programs that works transparently in the background to scan and disinfect email messages as they are transmitted, including ability to surgically removes dangerous email attachments while leaving the remainder of potentially important messages intact and readable (but how could such an important email carries a virus is unclear). iolo AntiVirus support scheduled system inspections, and its virus signatures are update up to once per hour, making sure the latest threats are made known to the engine instantly.
iolo is offering one year free subscription promotion to the iolo AntiVirus for 3 PCs, which normally costs $39.95. The free service subscription fee will let user have free serial number and user ID which can used to activate iolo AntiVirus, with unlimited virus signature updates and unlimited email, phone, and web support.
Go the the following URL to get your free license to iolo AntiVirus with zero subscription fee for 1 year.
http://www.iolo.com/ads/vnu/avpromo.aspx
You need to complete the checkout process process to get the serial number and user ID (activation key). Don't worry, no payment nor credit card number required. Remember to choose email delivery method for licensing details for completely free transaction. Post delivery costs $10 or $15.
Download and install the latest version of iolo AntiVirus ioloav_dm.exe. Then use the license details or activation key received in your mailbox to activate the product to become a full product, instead of trial version.