Ashampoo Magical Defrag 1.2 is a disk defragmentation tool which intends to resolve issue Windows takes longer and longer to find data on hard disk due to files get split up into more and more fragments stored in different places all over the disk. Ashampoo Magical Defrag 1.2 can defragment the hard disk automatically and "invisibly" in the background, with ability to pause defragmentation automatically as soon as other programs require processor capacity or access the hard disk.

Ashampoo Magical Defrag 1.2 runs as a service, making it able to defragments the hard disk even when no user is logged in. It support for defragmenting compressed files, and no prior analysis needed. It also has statistic functions for monitoring defragmentation.
VNU Computeractive is giving away the full commercial version of Ashampoo Magical Defrag without time limit or any other limitations. To get the free full licensed registration key for Ashampoo Magical Defrag 1.2, download the setup installer from direct download link below:
ashampoo_magicaldefrag120_vnu_gb.exe
Run the setup to installer Ashampoo Magical Defrag 1.2. During installation, make sure the box marked Get fullversion key is ticked. After installing, run the Ashampoo Magic Defrag 1.2 program. At the first run, a "Ashampoo Magical Defrag Trial Information" dialog will appear. Click on Obtain a FREE full version key button. to launch your web browser to registration page. If you miss the dialog, simply go to Internet drop down menu, and click on Get full license key.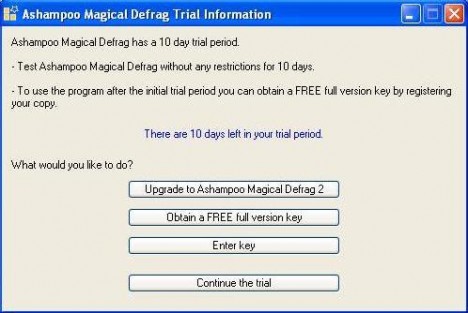 Fill in your email and submit, a confirmation email will be sent to your mailbox. Click on the confirmation link, and optionally, fill in some personal data will get the free serial code number to activate the Ashampoo Magical Defrag 1.2 registration send to your email account.