Browsing articles in "Security"
Zemana Mobile Antivirus Premium is an advanced mobile security application from Zemana that designed to protect Android device and tablet from mobile threats such as malware, spyware, virus, keylogger, Trojan, and more to ensure personal data safe.
Zemana Mobile Antivirus Premium supports more than 14 languages – English, Turkish, Spanish, Russian, Italian, Indonesian, Polish, Vietnamese, Bengali, Dutch, German, Portuguese, Bosnian, Croatian, Korean, Hungarian.
Zemana also available in various security solutions – Zemana Anti-Malware, Zemana AntiLogger.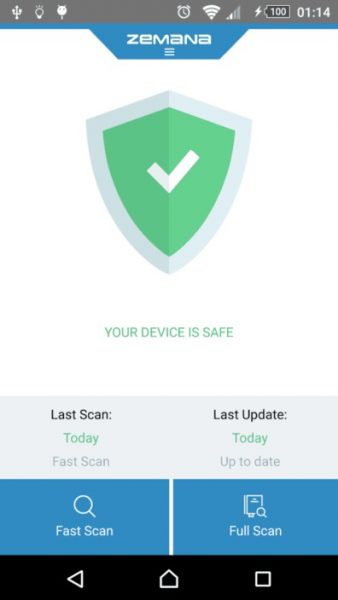 Continue reading »
Award-winning software – Steganos Privacy Suite is a comprehensive security suite to protect data and privacy safe from snoopers. Steganos Privacy Suite included Steganos Security, Steganos Safe and Steganos Password Manager that features to manager password, trace destructor, encrypt sensitive data, shredder, and more.
Steganos Safe secure or encrypt data on storage drive, folder, USB keys, emails, cloud files (Dropbox, OneDrive and Google Drive) in a secure password-protected vault. Steganos Password Manager help store login information, bank account details, credit card information, Favourites URLs, etc. In addition, the trace destruction feature to securely deletes Windows traces and internet browsing history. While Shredder can completely wipe out all deleted data from the hard drive to prevent data recovery in future.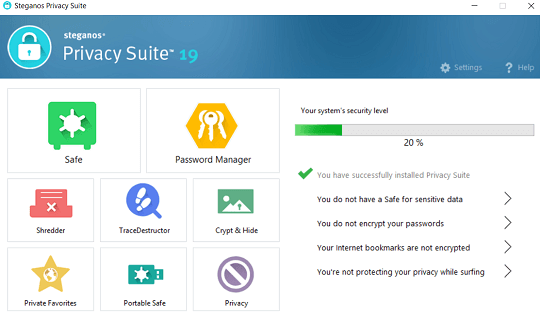 Continue reading »
Avira Prime is an awesome security service from Avira that available in cross-platform all-in-one service with subscription-based. Avira Prime enable users all-in-one access to all Avira premium services such as Avira Antivirus Pro, Avira Phantom VPN Pro, Avira System Speedup Pro, and Avira Software Updater Pro for protection, privacy, and performance.
Avira Prime controlled via central dashboard that allows user to manage all devices and services, add or remove services, and use remote tools in real-time. In addition, Avira Prime also provides a bunch of free services included Avira Password Manager, Avira Browser Safety, Avira SafeSearch Plus, and additional iOS apps.
Continue reading »
BitDefender Internet Security 2019 free genuine license key is now available to everyone at no cost. A leading global cybersecurity company – Bitdefender is offering free 6-months license series key of BitDefender Internet Security 2019 to everyone.
BitDefender Internet Security 2019 is the latest version of security product which combines BitDefender antivirus engine, firewall, antispam, antispyware and parental control software. This latest security software covers all the security needs of an Internet-connected family by providing comprehensive protection against viruses, spyware, spam, scams, phishing attempts, intruders and objectionable web content.
BitDefender Internet Security 2019 comes with Autopilot features. Based on device usage and needs, the software able to recommends different types of protection to enhance device security and performance. In addition, the navigation menu allows user access to Bitdefender account where can perform settings, notifications, configuration, and advanced administrative tasks.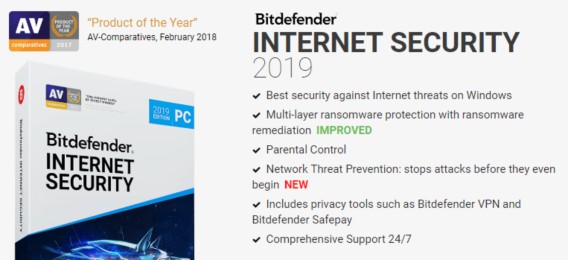 Continue reading »
Bitdefender Internet Security 2019 is the company latest version internet security suite that featuring antivirus, antispam, ransomware protection, browsing protection, parental controls, firewall, password management, and more.
The advance internet security software prevent treat attacks by introduce new Network Threat Prevention, delivers multi-layer ransomware protection with ransomware remediation feature to ensures files (documents, pictures, videos, or music) protected against ransomware.
In addition, Bitdefender 2019 also includes the new Security Advisor. The one-click tool can quickly checks all available wireless networks and highlights security vulnerabilities to user.
Bitdefender Internet Security 2019 comes with user friendly interface with one-click button to access modes such as Quick Scan, Vulnerability Scan, and etc.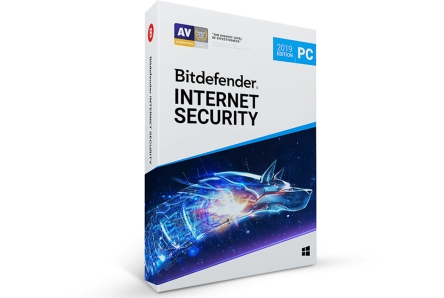 Continue reading »
BullGuard Internet Security – a comprehensive security suite with strong antivirus engine that provides complete protection against viruses, spyware, theft, malwares, and digital fraud.
BullGuard Internet Security comes with intelligent three-layer protection that constantly protects against security threats. The security software offers a backup system and a tool for PC optimization to improve system performance. While the spam filter feature are ensure Inbox clean and browsing protection prevents accessing malicious websites.
BullGuard Internet Security 2018 update also considers for gamer enthusiasm, which bring features game booster to maximize gaming experience with faster frame rate without slow down the PC.
Continue reading »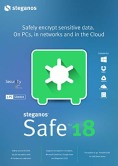 Steganos Safe 18 formerly known as Vault is a premium encryption and security software that designed in order to encrypt PC personal data so that create safes on PC.
Steganos Safe 18 provides a full range of privacy protection tools accessible through a single intuitive interface. It supports data encryption in Dropbox, Microsoft OneDrive, Google Drive, Outlook (including calendars, contacts and tasks), Outlook Express, Windows Mail safe, and MagentaCLOUD.
Steganos Safe 18 uses powerful industry standard 256 Bit-AES encryption technology to ensure confidential files are made unreadable to third parties.
In addition, the software also feature Steganos Portable Safe which enable user create its own mobile data vault, so that user can use it portable drive such as USB drive, CD, DVD or BlueRay disc on any PC.
Steganos Safe 18 also protect internet privacy by delete all Internet browsing history after web surfing with Steganos Trace Destructor feature.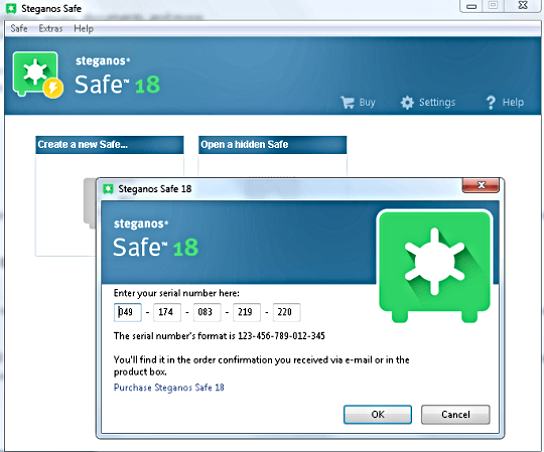 Continue reading »
Bitdefender Total Security 2018 is an advanced security suite that includes more features than most PC security programs which provide protection for PC against harmful threats like Malware, Trojan, Ransomware etc.
In addition to protect against malware and phishing attacks, the software also warn users from threats on social media. The software also features deep scans removable media to block malware entering through USB devices.
The Bitdefender firewall works well with Microsoft Windows security to create a double layer of protection and Bitdefender parental controls help keep children safe online by block, control, monitor online activity, including Facebook.
Another attractive features – gamer mode or silent mode, it will postpones full scans and pop-up notifications when user watch videos or play online games, so that it will not slow down the PC and bothering user.
Continue reading »