BullGuard Internet Security is a comprehensive and powerful security suite for multiplatform(Windows, Macs, Android) that provides protection against all manner of threats such as viruses, Trojans, keyloggers, adware, spyware, malicious scripts, and worms. BullGuard Internet Security offers online backup system and tool for PC performance optimization, and parental control to protect kids from cyberbullying and predators.
In addition, BullGuard Internet Security also features Game Booster mode which similar functionality to the Game Mode in the Windows 10 Creators Update. When playing game, the program will pushes non-priority tasks to single CPU core, so that the rest of processor focus on the game.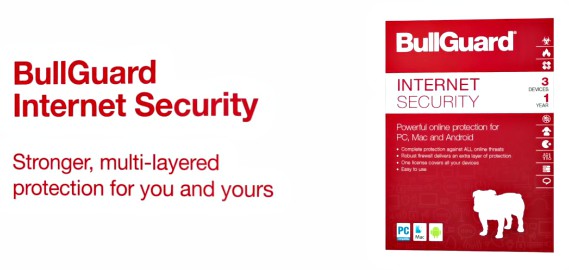 Features of BullGuard Internet Security:
Antivirus – effectively catches all viruses
Real-time Protection
Spam Filtering
Parental control – protect without nagging
Backup – easily back up, recover and share files (5GB of online backup)
PC Tune-up
Vulnerability Scanner – keep PC in good health
Firewall
Safe Browsing
Game mode
24/7 Support
BullGuard Internet Security normally cost $59.95 for purchase. As part of promotional offer, the company has offer 15,000 free copies of BullGuard Internet Security 2018 (365 days trial version) to everyone. The offer valid until 15,000 activation, and its first-come-first-serve.
Just head here to download 365 days trial version installer – BullGuardDownloader.exe
Download and run the installer to finish the installation.
During installation, create a new account to complete the process.
Launch BullGuard Internet Security, then reach settings menu. You should notice that 365 days left of subscription.
BullGuard Internet Security compatible with Windows 10, 8, 7, Vista / Mac OS X 10.11 or later / Android 4.0 and higher.
Update: BullGuard Internet Security 2018 Free Download Here
You can share or follow us on Twitter, add us to your circle on Google+ or like our Facebook page to keep yourself updated on all the latest info from Microsoft, Google, Apple and the Web.