MSD Passwords is an advanced password management software that can navigate direct to password protected sites without re-enter the login information and protect data with strong encryption algorithm prevent from unauthorized access to your information.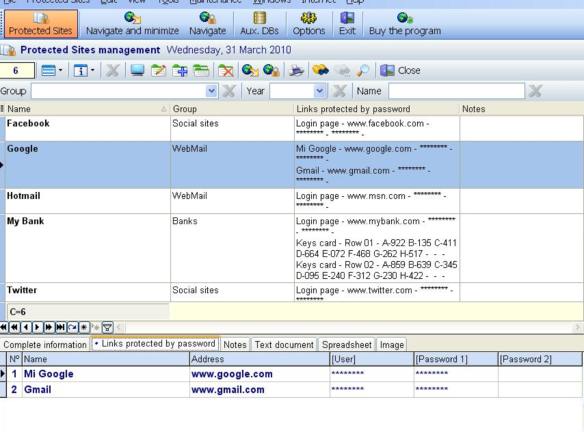 Using a MSD Passwords has many advantages. It enables you to:
Protect data confidentiality and security
Finding and filtering data
Data backup
Storage and recovery of table configurations
A main advantage of MSD Passwords is that you can set and save login password for all site such as Facebook, Twitter, Google, Hotmail, banks account. Then you will be able to enter the sites without re-enter login information.
Once start using MSD Passwords, you will discover that it is faster and easy to log-in at websites, compared to manual keying in the login username and password.
Besides that, for the best password security, MSD Passwords brings advanced tool – Passwords generator for generate random strong passwords.
MSD Passwords comes with 3 main modules; Protected sites allows to store the login information of Internet protected sites, Navigator allows to navigate to Internet protected sites using the default Internet browser, while Auxiliary databases for manage the Groups database.
In addition, MSD Passwords also brings several important tools such as Data backup for backups and restore data, Passwords generator allows to generate random strong passwords, Word processor and Spreadsheet for edit documents, and etc.
Features of MSD Passwords:
Information Management

Data confidentiality and security
The powerful relational database engine
Advanced data grids
Powerful tools for data finding and filtering
Unlimited different reports
PDF support

Ease of Use

Comfortable and easy to use interface, similar to all the program
Fast and comfortable creation of new records in the auxiliary databases
Contextual menu in all the program
Integrated help in all the program
Quick tutorial, integrated into the program help
Variable size edition dialogues
Maximized edition of Notes and Rich Text fields
The content indicator in the dialog tabs
Program iconization in the System Tray

Customization

Aspect, colors and fonts can be customized in dialogues, tables, etc.
Skins
Program behavior can be customized
Customization of the visibility and position of the columns in the data grids

Advanced Features

Word processor
Spreadsheet
Image viewer
Storage and recovery of table configurations
Confidentiality
Data backup
Data Maintenance
Databases compression
Databases repairing
Auxiliary databases edition
MSD Passwords normally cost $22 for license purchase. As part of promotional offer, everyone now have chance to grab the genuine license key of MSD Passwords. To grab the free license, just follow below:
Download the MSD Passwords software.
MSD Passwords installer: SetupMSDPasswords.exe
Once finished download, install and run the program.
In the program, click on "Maintenance" menu and then choose "unlock the Program".
Next, fill in the license series key below to activate the program.
Courtesy of MSD Soft Gov16kC98L820wT99L9eu0dm
MSD Passwords compatible with Windows 10, 8.1, 8, Windows 7, Vista, and Windows XP.
You can share or follow us on Twitter, add us to your circle on Google+ or like our Facebook page to keep yourself updated on all the latest info from Microsoft, Google, Apple and the Web.