Adguard from Insoft, Llc. is a comprehensive ads blocking program that can effectively blocks all types of ads, pop-ups, and removes banners from any programs to ensure browsing speed without waste bandwidth.
Adguard works well on all browsers even on Facebook, YouTube, and others by blocking pop-ups and banners, it also can protects operating system from phishing attempts and other malicious sites. With Adguard, it can protect privacy, online threats, filtering of obscene materials, and completely removes all forms of tracking from the internet.
Adguard comes with 3 main modules: AdBlocker, Antiphishing, and Parental Control. AdBlocker removes all the advertising elements from web pages. Antiphishing protects against malicious and fraudulent websites. While Parental Control protect children from obscene materials and adult websites.
Why AdGuard?
Adguard is a simple & fast security software works with all Windows (64/32 bit) versions including Windows 10.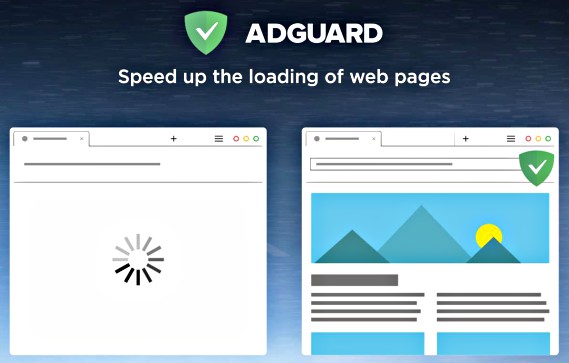 Feature of AdGuard:
Blocks all ads including:
Video ads (including YouTube video ads), interstitial ads, and floating ads
Unwanted pop-ups
Banners and text ads (including Facebook advertisements)
Speeds up page loading and saves bandwidth
Blocks any spyware, adware, and dialer installers
Protects privacy by blocking common third-party tracking systems
Protects from malware and phishing
Free & Safe Download
Works with All Windows versions
AdGuard normally cost $ for purchase. As part of promotional offer, the company is giving away 6-months license key of AdGuard to everyone at no cost. To grab the free genuine license key, just follow the steps below:
Download AdGuard installer: adguardInstaller.exe
Once finish download, install the program.
The program activation will automatically once finish install.
Note: The offer is valid for first time user install trial version.
AdGuard compatible with Microsoft Windows XP, Vista, Windows 7, 8.1, and Windows 10.
You can share or follow us on Twitter, add us to your circle on Google+ or like our Facebook page to keep yourself updated on all the latest info from Microsoft, Google, Apple and the Web.