Browsing articles in "Freebies & Deals"
Platinum MusicPass by Sony BMG music group is a series of digital album cards, which is also a collectible cards or gift cards that enable consumers to download full-length albums, and in many cases special bonus content, in the form of high-quality MP3 song files. Platinum Music Pass is now giving away free MP3 songs from a few singers from variety of albums.
Continue reading »
The PRODUCT (RED) themed wallpapers are extracted from Dell PRODUCT(RED) PC, which is launched jointly by Microsoft and Dell to help solve AIDS problem in Africa. The PRODUCT (RED) PC comes with Windows Vista Ultimate PRODUCT (RED) edition, which contains the following unique exclusive wallpapers. Here's the preview of the PRODUCT (RED) wallpapers and the download link to the wallpapers if you love them.
Continue reading »

Would you wear a free t-shirt with advertisements printed on it? Or if you're an advertiser, would you advertise on a t-shirt, together with 499 other ads (unless you buyout the whole ad spaces on the t-shirt)? That's what onemillionfreetshirts.com trying to achieve, by asking people to get a full-of-ads, and potentially ugly t-shirt free of charge, paid by advertisers, and wear it on his or her sexy body.
Continue reading »
Watermarking is image manipulation software utility that can add elegant watermark or background text to photos, pictures and images to protect images and photo (in JPG, PNG, TIFF, GIF format) from been copied and used without permission. Adding watermark can be done by Adobe Photoshop and other imaging software such as Microsoft Paint or Paint.NET too, but it's not a very easy process.
Continue reading »
Giveawayoftheday.com gives away CyberPower Audio Editing Lab 12 as freebie today. CyberPower Audio Editing Lab 12 is an useful utility for audio editing and mastering. The program contains everything you need to create great sounding recordings and audio CDs, including professional tools for recording, analysis and editing. The user interface was designed with speed, accuracy and ease of use in mind.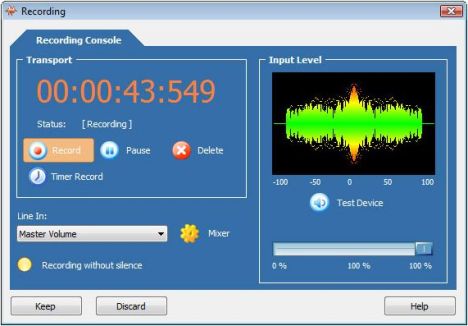 Continue reading »

Have a DVDPlay fully automated and remotely managed DVD rental machine in your vicinity? DVDPlay is giving away PromoCode promotional code that allows customers to rent free movies from its automated movie and video store.


Continue reading »