Giveawayoftheday.com gives away CyberPower Audio Editing Lab 12 as freebie today. CyberPower Audio Editing Lab 12 is an useful utility for audio editing and mastering. The program contains everything you need to create great sounding recordings and audio CDs, including professional tools for recording, analysis and editing. The user interface was designed with speed, accuracy and ease of use in mind.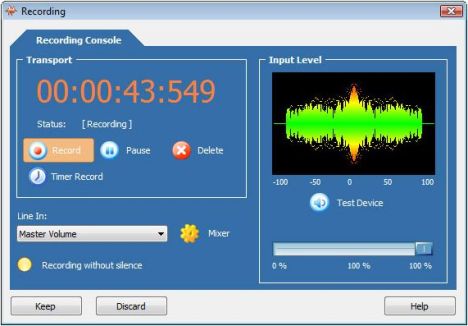 Large range of high quality audio tools and effects are integrated in CyberPower Audio Editing Lab. Fore example, tools for dynamic processing, equalizing, numerous effects such as echo, amplification, noise reduction, reverb, chorus and flanger, as well time stretching and key transposition tools. Recordings distorted by noise, clicks, crackle, clipping or missing high frequency content can be restored.
CyberPower Audio Editing Lab 12 usually costs $39.95 for personal license, and for today only, it's available for free, complete with free of charge licensed software registration key. It only works if you download and install today for personal use, and the genuine license key lasts forever as long as you don't reinstall it. But as usual, no technical support and not entitle to future upgrade.
Download free CyberPower Audio Editing Lab. Use registration key 2195162mdoqvr to register master's edition after installing. If you miss out the dateline, download the 30-day trial version.