Platinum MusicPass by Sony BMG music group is a series of digital album cards, which is also a collectible cards or gift cards that enable consumers to download full-length albums, and in many cases special bonus content, in the form of high-quality MP3 song files. Platinum Music Pass is now giving away free MP3 songs from a few singers from variety of albums.

To access and download the free high quality MP3 songs at 320 Kbps bit rate with no DRM restriction, no MusicPass card is needed. Simply enter the following codes at Platinum MusicPass homepage.
Pin Code: 6782491755
Serial Number: 90000001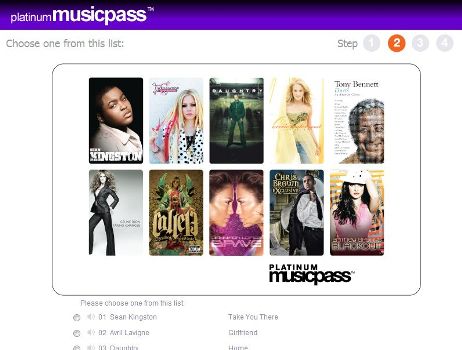 Songs that are available for free download, and their singers are:
Sean Kingston: Take You There
Avril Lavigne: Girlfriend
Daughtry: Home
Carrie Underwood: So Small
Tony Bennett: Sing You Sinners – duet with John Legend
Celine Dion: A World To Believe In
Calle 13: Algo Con-Sentido – featuring pg-13
Jennifer Lopez: Hold It Don't Drop It
Chris Brown: Wall To Wall
Britney Spears: Gimme More (Oakenfold Remix)
As the MP3s downloaded is free of DRM control, meaning that the songs can be played on all MP3 players, including iPod, iPod Touch, iPhone, iPod nano and other media player, and of course on any computer, whether Windows, Mac OX S or Linux. Customers also allowed to burn the MP3s to CD disc.