Browsing articles in "Web Browsers"
There have a lot of username and passwords need to memorize in our daily life. If you can retrieve the stored usernames, emails and passwords from your iPhone and easily manage them, that will be a pretty good feature for quickly getting into all your favorite websites. Two key features – Saved Passwords and Autofill in iOS let you save passwords on websites via Safari. Saved Passwords help you saved your username and password, so that you no need to enter them every time again. Autofill feature make sure the password forms are populated automatically with the saved data. Both these features will stores your username and passwords in your device's memory.
However, if you want to log on to the websites with other devices and forgot the username or passwords? How would you do? Don't worry; you can retrieve all the information through its settings in Safari.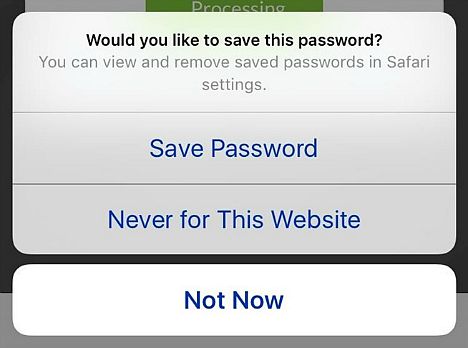 Continue reading »
Microsoft just released Windows 10 Build 10166 to its Insider Preview members. Althrough, there is no major features change, but the latest build bring improvements and bug fixes to Microsoft Edge browser.
The next iteration of Mozilla Firefox web browser, Firefox 35, has finally been officially released by Mozilla after its public beta and RC with improve performance. Mozilla Firefox 35 is available for Windows, Mac, Linux, and Android.
The latest version of Firefox 35 support for H.264 MP4 video playback on OS X Snow Leopard and features "the first global communications system built directly into a browser" WebRTC (Web Real-Time Communication) -based free video calls service – Firefox Hello. Firefox Hello allows users to make free voice and video calls across WebRTC-supported browsers including Google Chrome and Opera.
Internet Explorer 11 has new update from Microsoft which adds Bing Search box on New Tab page of Internet Explorer. If you spend a lot of time in searching useful information in Internet Explorer, Bing Search box might help you to easily type the keyword from the search box and search the web for information directly in the web browser.
Continue reading »
Apple's keynote media event will kick off starting at 10 a.m. PT / 1 p.m. ET. on September 9, 2014 at Apple's headquarters in Cupertino, California, and expected to unveils Apple's new high-end hardware and technologies, as well as offering brand new iPhone 6 and most awaiting Apple iWatch.
Ctrl+C and Ctrl+V for Windows (Copy and paste) is one of the most common actions when surf the web. However, some websites such as financial and banking sites for security purposes don't allow you to copy or paste the content. If you are Firefox user and looking for a trick in Firefox browse that can permanently enable you copy and paste the content when websites disable it, here is a Firefox settings tweak that may fit your need.
Continue reading »
For people who are using Gmail or other Google's services, you will need a Google account to sign in. Google has centralized for all Google services in one Google account. Google+ is a social network service from Google that integrated with other Google services, such as Gmail, Google Maps and Google Calendar. Google+ will make use of the Google search engine, existing Google Profiles, and the +1 button.
Mozilla has finally launched the latest version of the company's massively popular web browser – Firefox 29 for Windows, Mac, Linux, and Android. The newest version Firefox 29 has added a lot of features such as sync feature of the browser. With sync feature, all your data is now synchronized via email and password through a Firefox Account to create a seamless Web browsing experience.
The new Firefox Sync feature enables you to sync the data directly by your email address and password and allows you to load the same tabs, bookmarks and other browsing data across multiple mobile and desktop platforms. If you wonder how you can synchronize from desktop web browsers into your Android devices for faster access, here are some simple steps that you can follow to get it done.
Continue reading »