There have a lot of username and passwords need to memorize in our daily life. If you can retrieve the stored usernames, emails and passwords from your iPhone and easily manage them, that will be a pretty good feature for quickly getting into all your favorite websites. Two key features – Saved Passwords and Autofill in iOS let you save passwords on websites via Safari. Saved Passwords help you saved your username and password, so that you no need to enter them every time again. Autofill feature make sure the password forms are populated automatically with the saved data. Both these features will stores your username and passwords in your device's memory.
However, if you want to log on to the websites with other devices and forgot the username or passwords? How would you do? Don't worry; you can retrieve all the information through its settings in Safari.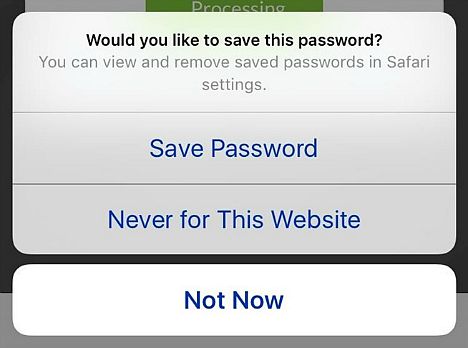 Manage Saved Passwords
View Saved Passwords and Username
Head over to Settings app and scroll down to tap on Safari

Inside the Safari, click on "Password & AutoFill" under the General tab.

Tab on "Saved Passwords". The page will asked to enter passcode when click on the tab. Once done, you will see a list of all the websites that using Autofill to auto saved the passwords along with username.

Click on the website you would like to check for detail, you will see the detail information including the password, usernames or email and the URL link.
That's it. You can write down all these detail info to log in into your account in another device.
Removing saved passwords
In Passwords tab, hit "Edit"
You now can select the password you want to remove
Simply click "Delete"
A prompt message will appear to ask if you're sure you want to delete the password.
The best way to sync your passwords and usernames to all of your approved devices by enabled the iCloud Keychain. Therefore, when you have delete or changing password on your iPhone, the saved info wills also sync and changing on your iPad, Mac, etc.
AutoFill
You can disable Safari from auto saving all your usernames and passwords into your device. Settings app > Safari > AutoFill > disable the Names and Passwords option. Enable or switch on back to get this option back in Safari.