Browsing articles in "Web Browsers"
The final version of Firefox 29 is already available for free download for Windows, Mac, Linux and Android with update finally brings the Australis theme to its stable release channel. The setup installer of Firefox 29 has already been posted on Mozilla FTP server, which is accessible to all.
When you visit website and login for the first time, browser will prompt asks to remember the login credentials (including your username and password). This will allows browser to save the password for the next time revisit that website again, it will auto-fill the username and password fields. Sometimes users may face a problem that websites use a special directive instruction that prevents browser from offering to save and remember the login credentials.
Continue reading »

Google Chrome web browser, like most modern web browser, has auto-complete or auto-fill feature which automatically suggests matching entries based on previously entered phrases or strings, and previously visited URLs.
However, once enabled, the auto-complete will always remember the typed entries or previous links, and automatically suggest similar or matching entries based on what's been typed into the an input field, text area or address bar. Sometimes, the list of previously typed terms also appear automatically in the drop-down list, before anything is typed, when a field or search box is clicked with a mouse or down-arrow key is pressed.
Continue reading »
Google Chrome web browser includes a built-in Chrome PDF Viewer by default. Chrome PDF Viewer allows most PDF files to be opened automatically and seamlessly without the need to install additional plugin. However, some of the Adobe Acrobat PDF files with advanced features, such as those with the dynamic form submission or interactive content, is not supported by Chrome PDF Viewer.
Continue reading »
Google Chrome web browser or OS has a built-in internal DNS caching mechanism which stores and saves the domain name to IP address resolution information which it had previously resolved. In addition, if you enabled the 'predict network actions to improve page load performance' feature, Chrome will also look up IP addresses of all links on the web page in advance, and store the information in the internal DNS cache.
Continue reading »
In default Windows 8 installation, Bing search app is featured prominently on the Start screen, with a larger tile that spans across the width of two app tiles. The Bing app also has a live tile which displays visually stunning and beautiful image to attract the attention of Windows 8 users.
With such a large screen real estate been taken up, you will probably expect the Bing search app to be an useful utility. But so far it has been a letdown.
Continue reading »
Since Firefox 13, Mozilla Firefox browser introduces a speed-dial New Tab Page which lists user's top sites whenever a new tab is creating. The feature allows user to visit the most visited URLs easier, and it also allows user to pin sites to the New Tab Page.
But not everyone is fond of the feature of New Tab Page in Firefox web browser, which raises the concern on privacy issue and potentially gives away the clue to your web browsing habits. Or you may want to display your favorite web page instead whenever opening a new tab in Firefox.
Continue reading »
The latest version of Firefox 18 (FF18) is already available for free download through the Firefox official website ahead of the scheduled release date on January 08, 2013 for Windows, Mac, Linux, and Android.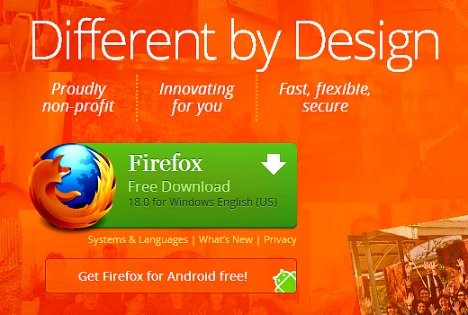 Continue reading »