The next iteration of Mozilla Firefox web browser, Firefox 35, has finally been officially released by Mozilla after its public beta and RC with improve performance. Mozilla Firefox 35 is available for Windows, Mac, Linux, and Android.
The latest version of Firefox 35 support for H.264 MP4 video playback on OS X Snow Leopard and features "the first global communications system built directly into a browser" WebRTC (Web Real-Time Communication) -based free video calls service – Firefox Hello. Firefox Hello allows users to make free voice and video calls across WebRTC-supported browsers including Google Chrome and Opera.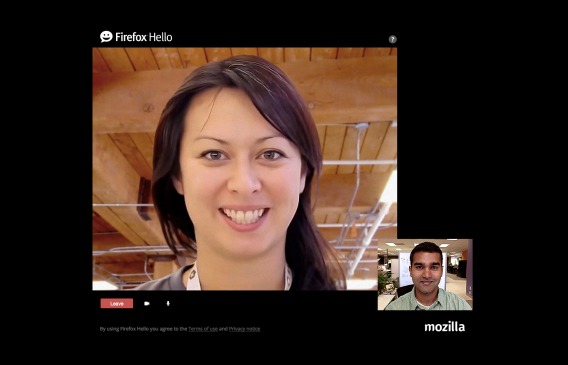 To start it, Firefox Hello users don't need to download additional software, plugins, or create an account. Just simply click the Hello button on browser toolbar (or right-click the toolbar, click Customize and add the button from there), hit 'Start a conversation', and then share the automatically generated link by using the contacts from Firefox account to begin video calls.
In addition, Firefox 35 also improve better dynamic styling, Firefox Share that allows users to share links via Facebook, Twitter, Tumblr, LinkedIn, Gmail and more from a single pop-up, and Firefox Marketplace for the desktop.
Video for New Firefox 35:

Here's the full changelog for Firefox 35 (Desktop):
Firefox Hello with new rooms-based conversations model. (New)
New search UI improved and enabled for more locales. (New)
Access the Firefox Marketplace from the Tools menu and optional toolbar button. (New)
Built-in support for H264 (MP4) on Mac OS X Snow Leopard (10.6) and newer through native APIs. (New)
Improved handling of dynamic styling changes to increase responsiveness. (New)
Implemented HTTP Public Key Pinning Extension (for enhanced authentication of encrypted connections). (New)
Use tiled rendering on OS X. (New)
Improved high quality image resizing performance. (New)
Changed JavaScript 'let' semantics to match the ES6 specification. (HTML5)
Resource Timing API implemented. (HTML5)
CSS filters enabled by default. (HTML5)
Added support for the CSS Font Loading API. (HTML5)
Support for inspecting ::before and ::after pseudo elements. (Developer)
Computed view: Nodes matching the hovered selector are now highlighted. (Developer)
Network Monitor: New request/response headers view (more info). (Developer)
Added support for the EXT_blend_minmax WebGL extension. (Developer)
Show DOM Properties context menu item in inspector. (Fixed)
Reduced resource usage for scaled images. (Fixed)
js updated to version 1.0.907. (Fixed)
Non-HTTP(S) XHR now returns correct status code. (Fixed)
Here's the full changelog for Firefox 35 (Android):
Bing search now uses HTTPS for secure searching. (New)
Improve Mozilla's geolocation service by sharing your wi-fi and cellular signals. Enable this feature by opening the Settings menu and in the "Mozilla" section check the "Mozilla Location Services" option under Data Choices. (New)
Search dialog added to network error pages. (New)
Use Android Download manager to keep track of downloaded files. (New)
Improved handling of dynamic styling changes to increase responsiveness. (New)
Implemented HTTP Public Key Pinning Extension (for enhanced authentication of encrypted connections). (New)
Some devices now have the ability to view search activity by swiping up or from the search widget. (New)
Moved synced tabs from the tabs tray to a home panel. (Changed)
Changed JavaScript 'let' semantics to match the ES6 specification. (HTML5)
Resource Timing API implemented. (HTML5)
CSS filters enabled by default. (HTML5)
Added support for the CSS Font Loading API. (HTML5)
Breton (br) and Esperanto (eo) locales added. (Language)
Computed view: Nodes matching the hovered selector are now highlighted. (Developer)
Reduced resource usage for scaled images. (Fixed)
Files downloaded in private browsing mode are now viewable in the download manager. (Fixed)
The Firefox 35 can be downloaded from official Mozilla Firefox official site, here