Browsing articles in "Freebies & Deals"
4K Video Converter is a comprehensive video convertor software from DimoSoft that able to convert 4K video to other 4K format (4K MP4, 4K MKV, 4K MOV, and more). 4K Video Converter can convert 4096 x 2160 resolution video to 1920 x 1080 or 1080 x 720 resolution video for suiting user device. The video converted from 4K Video Converter can display on iPhone (X/8/8 Plus), iPad (Air/Mini/Pro), Android, TV, VR, Sony Vegas, Windows Movie Maker, Xbox One S, Wii, PS4 Pro.
With NVIDIA CUDA technology, the software guarantee the processing speed and output quality. In addition, 4K Video Converter also comes with built-in editor functions for adjust the video brightness, contrast, add text watermark, convert 2D to 3D, rotate the video to the right angle, and more.

Continue reading »
Good news to online educator, workshop teacher, and speaker, if you're looking for a way to record screen and quickly edit videos, here is solution that you should be looking at.
ACDSee Video Studio 2 is a handy video editing software that can create, edit, split, trim, merge audio and video recordings, add captions and transitions, and make custom selections to improve video viewing experience. ACDSee Video Studio 2 can produce videos in almost all of the popular file formats including MP4, AVI, WMV, MOV, M4V, MKV, and MP3.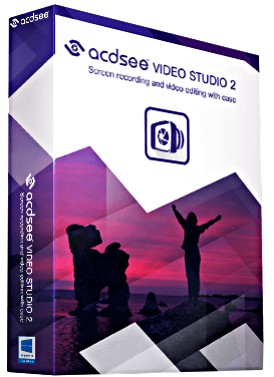 Continue reading »
Once again, Digiarty Software launch Winter giveaway to everyone at no cost. Digiarty is teaming up with other 6 well known software companies to offer free downloads for total worth $434 software.
MacX Video Converter Pro ($59.95)
CollageIt for Mac ($39.90)
MacBooster 4 ($49.95)
Sticky Password ($29.99)
Data Guardian ($19.95)
FlipHTML5 ($174)
PDF Expert ($59.95)
Adguard from Insoft, Llc. is a comprehensive ads blocking program that can effectively blocks all types of ads, pop-ups, and removes banners from any programs to ensure browsing speed without waste bandwidth.
Adguard works well on all browsers even on Facebook, YouTube, and others by blocking pop-ups and banners, it also can protects operating system from phishing attempts and other malicious sites. With Adguard, it can protect privacy, online threats, filtering of obscene materials, and completely removes all forms of tracking from the internet.
Adguard comes with 3 main modules: AdBlocker, Antiphishing, and Parental Control. AdBlocker removes all the advertising elements from web pages. Antiphishing protects against malicious and fraudulent websites. While Parental Control protect children from obscene materials and adult websites.
Why AdGuard?
Adguard is a simple & fast security software works with all Windows (64/32 bit) versions including Windows 10.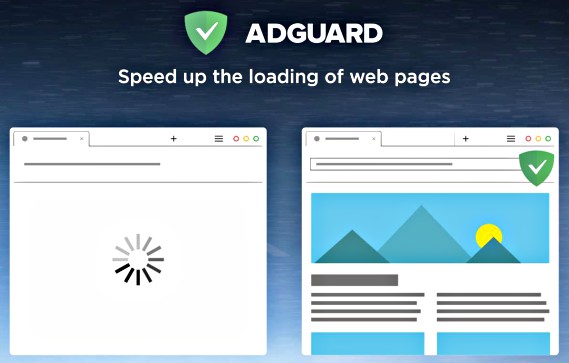 Continue reading »
Encryption is one of the methods to protect the private and confidential files. Ashampoo Privacy Protector is an intuitive cryptography and security software that comes with 256-bit AES algorithm technology for encrypt/decrypt files, securely erase files, discover and clean privacy file. Users can select individual files or entire folders to be encrypt and can set separate encryption passwords for each file. In addition, Ashampoo Privacy Protector also allows users save encrypt file and burn them to a disc or send the file to an email address.
Instead of encrypt technology, the software also features archiving and cleaning. Privacy Protector able to cleans all data relating to internet traces of popular browsers such as Firefox, Google Chrome, or Microsoft Edge.
With Ashampoo Privacy Protector, user can generate password keys for encrypt file from flash drives, file, and images to avoid lengthy passwords.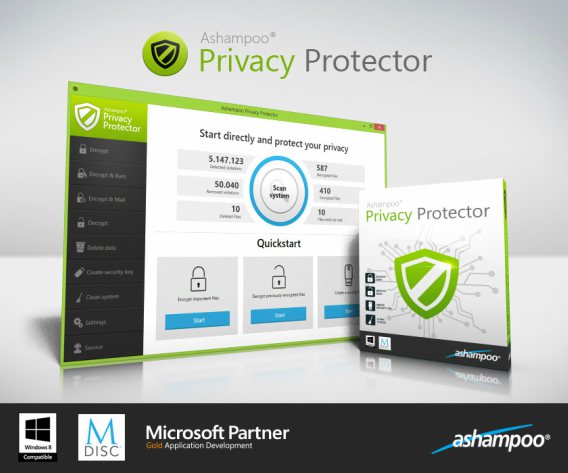 Continue reading »
Watermark Software is an important photo and media software that enable to protect photos from unauthorized use of. User can use any image, text, or QR code to watermark their photos and protect photo from unauthorized use.
With Watermark Software, user can quickly and easily watermark images in batches (more than 300 photos per minute). Besides that, it also allow user to adjust watermark size, resize, rename, edit photo, and more.
The software support variety of options for text watermarks including rich fonts, symbols, shadows, and various effects.
Furthermore, to save the process time, the software also design to allow user save their customized watermark as template for future use, and upload directly to web server via FTP.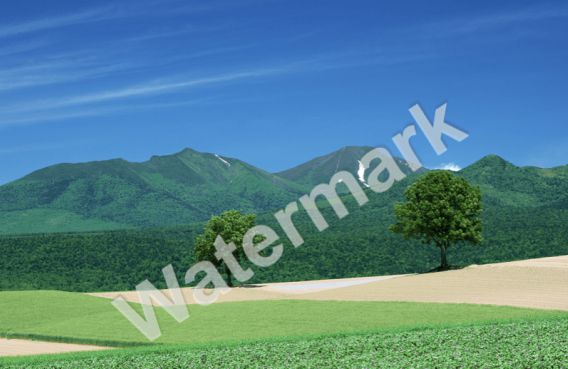 Continue reading »
Need a face-lift for your company or product brand? Here the chance to attract your customers like fireflies to the light and great first impression by give your company or product a brand new logo.
Do you know that first impressions can either make or break your sales? You may have the best idea for a product and the capability to sell it, but attach people to visit your company or product is essential before you make a sale.
So here's the scenario: potential customer is interested and browses through web page for more information. Not only is there insufficient information, but the brand logo is such that messy and plagiarism. It is a major turn-off and madly inconvenient to proceed, hence he/she decides not to purchase the product. Thus you've lost out on potential clients which would have purchased your product.
COVERT Pro is a total security solution that provides protection against spyware to ensure user's actions in all applications (browsers, email clients, office software, messengers, etc.) are safely hidden.
With it masking method, the software will create a secure platform to ensure invisible to the spies when user run applications. COVERT Pro able to filter as many of screenshoters and keyloggers which traditional antispyware software does not protect because it unknown and not prohibited.
In addition, COVERT Pro also comes with unique feature to protect sound recording. It will prevents spyware by allow users to adjust the speakers and microphone level and completely block the microphone. COVERT Pro also built-in instant messenger with encryption for users securely communicate with others Covert Pro users.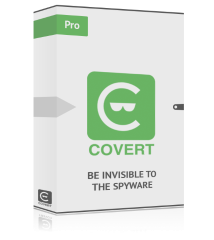 Continue reading »