Browsing articles in "Stuff & Buzz"
What's the purpose of a safe (also known as strongbox or coffer) or value if it can be easily defaeted, cracked and opened by somebody? Luckily, it's not easy, or almost impossible for average person to crack and defeat the lock combinations on the safe without access to the key or knowledge of the combination numbers. But some locksmiths, or safecrackers can easily crack open any safe with ease, as shown in the Discovery documentary video clip.
Continue reading »
Audiobook or audio book is an audible voice and sound recording that is primarily of the spoken word which is read by human as opposed to music. Other than that audiobook in digital distribution format shares most similar characteristics with digital songs. Audiobook is downloadable audio file encoded in MP3, Windows Media Audio (WMA), OGG and other audio format, and can be playback with portable media player (PMP) such as iPod.
Continue reading »
It's probably too hard to fulfill the dream to become an astronaut to has a chance to fly into space, especially for people who is not citizen of United States, Russia, and lately China. Even if you're multi-billionaire, the highest (or the furthest out of earth) is probably International Space Stations (ISS) for the cost of 20 millions US dollars or tens of thousands US dollars for less thrilling suborbital space flight.
Continue reading »
Apple's recent announcement of acquisition plan for PA Semi, a famous multi-core processors developer for embedded market with a huge acquisition cost of $278 million has triggered much speculation on what is the potential next step of the giant computer maker. Some of us may start wondering if such an act will threaten Intel as previous rumors of positioning its newly released ultra small form factor and low TDP (Thermal Design Power) Atom processor for Apple's next generation iPhone may not come true. By considering a few mismatch factors below, the possibility of using either PA Semi or even Intel Atom processors could just be pure rumors.


Continue reading »
The leading developer of innovative accessories for iPod and other consumer electronics, iFrogz has announced the national availability of its Audiowrapz cases in Wal-Mart stores nationwide. It's the first 100 percent silicone protective case for 3rd generation iPod Nano, along with built-in speakers utilizing an unique passive speaker technology that does not require batteries or draw power from your iPod, aiming to maintain a compact, stylish way to listen to music.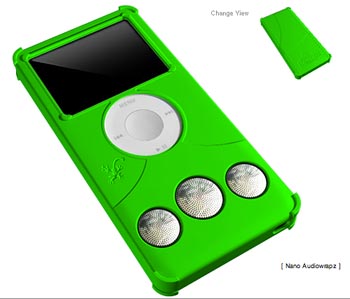 Continue reading »
Dilbert fans and readers now are given a chance to show off their talents and prove that they are funnier and more humourous than the cartoonist, Scott Adams, in this 20-year-old American comic strip. The popular Dilbert comic strip is famous in many countries for its satirical humor about a white-collar and micromanaged office. It has appeared in 2000 newspapers worldwide and has been translated into 25 languages.
Continue reading »
The worldwide leader in software, services and solutions that help people and businesses realize their full potential, Microsoft has officially announced that it has completed its acquisition of Danger Inc., the software and services company that's revolutionizing the experience of the mobile Internet.
Continue reading »