The leading developer of innovative accessories for iPod and other consumer electronics, iFrogz has announced the national availability of its Audiowrapz cases in Wal-Mart stores nationwide. It's the first 100 percent silicone protective case for 3rd generation iPod Nano, along with built-in speakers utilizing an unique passive speaker technology that does not require batteries or draw power from your iPod, aiming to maintain a compact, stylish way to listen to music.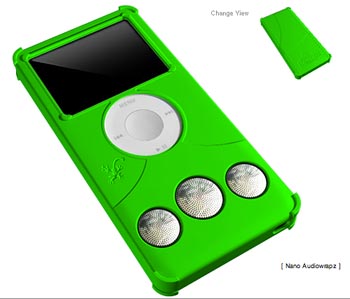 "Our new Audiowrapz give consumers the protection they need and the portable sound that they want – anytime, anywhere – without sharing earphones or using expensive sound docks," said Scott Huskinson, CEO and owner of iFrogz. "Wal-Mart reaches our core demographic and we are excited to be delivering our product to consumers through such a respected retailer."
According to the company, "Audiowrapz features an earphone port at the bottom of the case, which allows for private iPod listening at any time by simply plugging in earphones as usual. Additionally, the silicone features an anti-dust treatment to prevent dirt and dust from building up on the product while taking it on-the-go."
The cool iFrogz Audiowrapz is available at Wal-Mart in black and pink colors for under $20. More variety of different colors are available too.