Browsing articles in "Software"
Some of the common occupational hazards for workers who sit too long in front of the computer are eye strain, back pain, numbness, carpal tunnel syndrome, RSI (Repetitive Stress Syndrome), headaches, dizziness, or breathing problems. When we sit and type at the keyboard for hours, our muscles are tense and our posture may be incorrect, thus creating various health problems. It's even users are only reading websites such as Tip and Trick. It is important to take breaks in between and correct our posture so that we do not suffer from these physical risks. Therefore, the Break Reminder program is a little known but highly useful feature for users who want to be reminded to take breaks.
Continue reading »
Windows Search 4.0 (WS4) is the next version of desktop search for system running Windows operating system. Windows Search 4.0 which replaces Windows Desktop Search (WDS) and automatically upgrades WDS version 2.6 and later (older versions must be uninstalled first), can perform instant search on user's computer to find and preview documents, e-mail messages, music files, photos, and other items.
Continue reading »
AnyDVD HD (Version 6.4.0.0) is a product by Slysoft which is a Windows-based driver that works automatically in the background to unprotect encrypted movie DVDs, Blu-ray discs and HD DVDs. It removes the copy protection of a DVD movie as soon as it's inserted into the drive, allowing users to backup the movie using a DVD backup tool such as CloneDVD and CloneDVD mobile. AnyDVD HD has additional features for full Blu-ray Disc and HD DVD support, including decryption of Blu-ray (BD+ and AACS) and HD DVD (AACS) movies. With AnyDVD, users can watch movies over a digital display connection, without HDCP-compliant graphics card and without HDCP-compilant display, and playback almost all discs on PC with PowerDVD Ultra.
Continue reading »

Internet Explorer 7 (IE7) has a very useful feature that allows users to re-open the tabs the next time using Internet Explorer web browser with all web pages reloaded as when the IE window is closed. Typically, IE7 will ask for confirmation when there is multiple tabs open when users attempt to close or exit from IE7, and there is a "Open these the next time I use Internet Explorer" check box that users can select to reopen all existing tabs that are closed when IE7 is run again.
Continue reading »
Apple has announced its new Aperture 2.1 with powerful image editing plug-in architecture which allows photographers to easily use specialized third party imaging software right from within Aperture, aiming to enhance the user experience in Apple's Aperture photo-editing package.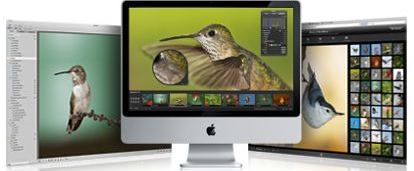 Continue reading »
If you are dealing with multiple applications running on your desktop frequently, you may need this freeware for your Windows based PC. Named as VirtuaWin, it is an open source application software that able to simulate many desktop system environment without additional hardware installation on your PC. Although there are already many different software utilities such as Windows PowerToy that able to perform similar task, but I found this to be user friendly and yet supports more virtual desktop profiles.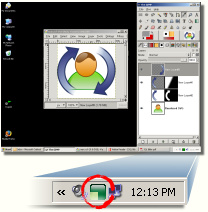 Continue reading »

Net users especially bloggers and webmasters must be quite familiar with Flickr, a famous and the largest photo sharing website/service and online community platform. When users register for a Flickr account, they can enjoy free monthly uploading of 100MB worth of photos. Showing and sharing favourite or creative photos is a wonderful experience. While showing off your photography technique and skills, you also give others opportunities to appreciate your creations. To upload digital images to Flickr in a more systematic way, you can consider a few uploading tools below.
Continue reading »
When click on CD writer or DVD writer drive icon or letter in Windows Vista, the optical drive disc tray will automatically eject or open, for users to put in a CD or DVD disc. The CD or DVD drive will also auto eject when users sending files to the CD/DVD writer to burn to disc. When the optical drive is auto ejected or opened, the following dialog appear, asking users to insert a disc into drive.
Continue reading »