Browsing articles in "Software"
Mozilla has released its next generation browser, Firefox 3 Beta 5, yesterday. This public preview version was released intended for developers to try out and give their feedback. Users or developers can download the Firefox 3 Beta 5 version from Mozilla for Windows, Mac OS X and Linux. It is available in 45 languages. The full and final version of Firefox 3 will only be released then the product is fully tested and ready.
Continue reading »
Quick Launch bar on Windows Taskbar lists icons of shortcuts for user defined frequently used programs so that users can easily and quickly access and run the program when needed. After installing Windows Vista, which Quick Launch feature is enabled by default, or turn on and show Quick Launch bar in Windows XP, it's time to manage and modify Quick Launch bar to add in commonly used shortcuts or remove unwanted icons in Quick Launch bar.
Continue reading »
We can create a shortcut to open or eject the CD/DVD drive, it's time to create another shortcut to close the CD/DVD-ROM or CD/DVD burner or writer drive disc tray automatically. The "Close CD" shortcut is useful for users who place computer at a distance away or in obscure inconvenient position that they able to close the drive without the need to press on physical button on the optical drive.
Continue reading »
You may have heard of telescopic scope as one of the famous accessory in mobile market. Now there seems to be a similar trend of coming up with microscopic scope that can fit into different market requirement. The CellScope was developed by a team of researchers in University California aiming for those mobile users that would like to diagnose their blood samples or inspect tiny specimens anywhere anytime.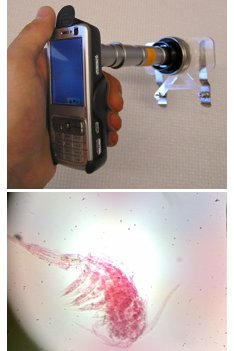 Continue reading »
In Windows Vista and Windows XP (if you have manually enable the Quick Launch bar), Quick Launch bar will take up a position in the Windows Taskbar, which normally resides right beside the Start Menu. If the area of Taskbar location occupied by Quick Launch bar is precious and important to you, or you're not actively using Quick Launch shortcuts, it's possible to reclaim the space by disable Quick Launch feature.
Continue reading »
Quick Launch bar or folder that sits on the Windows Taskbar area, offers users a way to easily and fast access frequently and commonly used application software. Programs appear as an icon shortcut in Quick Launch bar, and with just a single click on the shortcut's icon, users can run the program instantly, saving considerable time by eliminating the need to navigate and locate the program in Start Menu. And since, Quick Launch bar is located on taskbar, so no other open windows may block or obscure the shortcuts in it, unlike desktop shortcuts.
Continue reading »
Windows Vista Ultimate and Enterprise editions' license EULA allows installation of MUI (Multilingual User Interface) language packs to translate and change UI display language to another language for menus and dialogs. With MUI, users can switch display languages without reinstalling Windows Vista. However, with the release of Service Pack 1, the MUIs meant for Windows Vista RTM can no longer be installed with the following error message.
Continue reading »
Multilingual user interface (MUI) language packs in Windows Vista enables users to change the language Windows uses to display text in wizards, dialog boxes, menus, and other items in the user interface. Every Windows Vista system actually run on a display language that installed while setup Windows Vista. To change or switch to other different display languages, additional MUI language packs have to be installed.
Continue reading »