Browsing articles in "Software"

We reported previously that all 36 languages of Windows Vista versions should have their first service pack published to public by Microsoft on April 9. Unfortunately, this is not the case. Instead, Microsoft starts to distribute Windows Vista SP1 for 5 languages – US English, French, German, Japanese, and Spanish via Windows Update and Automatic Update system, ahead of previously rumored April 18.
Continue reading »

KB937287 is one of the prerequisite updates that must be installed on Windows Vista PC before the system can be upgraded and installed with Service Pack 1 (SP1). The KB 937287 update intends to upgrade the Servicing Stack layer in Windows Vista, which contains installation program for SP1. Unfortunately, lots of users experience various problems such as unable to install the update, or even worse, computer falls into endless reboot cycle.
Continue reading »
Windows Vista still inherits some of problems and issues faced in Windows XP regarding USB components, such as unable to recognize or detect external or portable USB flash drive after inserted to computer. Microsoft releases an update KB941600 that intends to fix and solve errors and issues that happen when using USB device or function in Windows Vista, but it's restricted with WGA genuine Windows validation check. Hence you will find the direct download links to the KB941600 update package here.
Continue reading »
Uconomix Encryption Engine (UEE) is a file encryption utility that allows users to protect the privacy of your sensitive files and folders by encrypting them with strong encryption algorithm and a password. Once encrypted, the files or folders can not be viewed without the original password with which they were encrypted.
Continue reading »
In some instances you probably need to make changes or editing to some Registry Keys for your Windows OS. If you edit them manually in the Microsoft Windows Operating System, you can run regedit.exe or regedt32.exe files to make amendments. However, using these built-in regedit methods, you need to browse through numerous directory trees to find the right keys. If you make the wrong amendments, your careless action might cause irreversible damage. To minimize your error and expedite your Registry Keys search, you probably could try this free Registry scanning tool, RegScanner.
Continue reading »
The successor of MS Paint application, Paint.Net is another free digital image and photo editing tool for computers using Windows XP, Windows Vista or Server 2003. This digital image editor was originally a design project of students in Washington State University mentored by Microsoft. It has been gradually improved and developed into a useful, powerful yet simple editing tool. It has a pretty similar interface compared to Adobe Photoshop.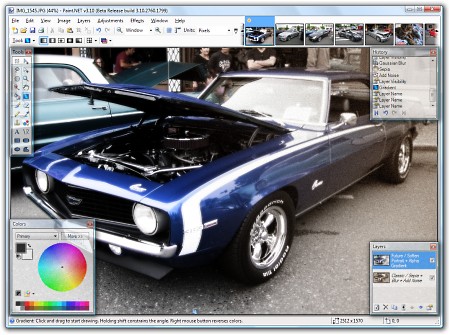 Continue reading »
Looking for a software that can automatically crawl web pages and grab or download all the images, pictures and photos embedded and hosted on the web pages or thumbnailed web gallery along the way? Bulk Image Downloader (BID) is one of the such web gallery downloading tool, which can download full sized images from almost any thumbnailed Web gallery, bypassing all annoying popups and adverts.
Continue reading »
ImageX is a command-line tool that enables original equipment manufacturers (OEMs), corporations and Windows enthusiasts to capture, to modify, and to apply file-based disk images for rapid deployment. ImageX works with Windows image (.wim) files and can work with other technologies that use .wim images, such as Windows Setup, Windows Deployment Services (Windows DS), and the System Management Server (SMS) Operating System Feature Deployment Pack.
Continue reading »