Ever accidentally delete files from your hard disk and empty the Recycle Bin, and losing sleep or heart pain on the lost documents? Or unintentionally format your Flash memory card with precious photos and pictures? Data lost may happens also when system corrupted, application failure, power shutdown, virus infection and etc. With appropriate tool, sometimes the deleted or removed files can be recovered, or undeleted, even though you have emptied the Recycle Bin. Data Recovery Wizard Professional from EASEUS is such utility that ables to recover data and undelete file on FAT, NTFS, EXT2, EXT3 file systems under Windows 2000, XP, 2003 Server and Vista.

The caveat emptor is that the disk space occupied by the lost or deleted files or folders must not yet been overwritten by new data. Other than this hopeless situation, Data Recovery Wizard Pro can recover almost any type of lost files or folders from servers, desktops, laptops etc, from any devices such as hard disk, external ZIP/USB drive, removable SmartMedia, MemoryStick, SD cards, etc.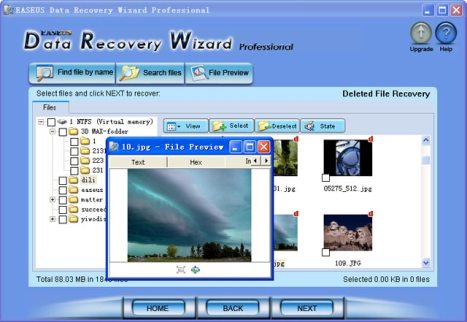 Data Recovery Wizard Professional has Deleted File Recovery module that can recover files and folders accidentally deleted, while the Complete Recovery module is designed for recovering files from formatted partition, crashed file system and partition without drive letters. Last but no least, Partition Recovery module is used for recovering the lost data from Hard Disks with hidden partitions, crashed file system, mistakenly deleted/damaged partitions, drives with failed operation/file system and drives suffered from virus.
Features of Data Recovery Wizard Professional
Enhanced support for Windows Vista.
Recovers loss data in EXT2 and EXT3 file system.
Recovers files from corrupted Ext2 and Ext3 partition.
Creates a Disk Image file for data recovery.
Intelligent search all possible file systems on hard drive.
Ability to resume the last recovery result.
High quality of file recovery.
Succinct and user friendly interface.
Recovers a specific file by right-click.
Giveawayoftheday offers free download and full license to Data Recovery Wizard Professional, which normally costs a hefty $89.95 (aff). The offer only valid download and installation done on today (April 10th, 2008).
Download Data Recovery Wizard Professional v4.3.6 with full free license to use for unlimited times. Running the setup.exe in downloaded DataRecoveryWizardProfessional.zip will extract the real setup installer DRWSetup.exe that needs to be execute to start the actual installation process. The DRWSetup.exe appears do not validate with GAOTD server for promotion availability, so if you backup the file, it's possible to reinstall it in future.
Didn't manage to get the free copy of DRW? If you want to buy, there is exclusive discount coupon code on Data Recovery Wizard (Professional) for My Digital Life readers.
There are plenty of how-to guides, step-by-steps instructions and FAQs in EASEUS website. Those who miss out the free offer can download the 30-day validity EASEUS Data Recovery Wizard trial version (aff).