You may have heard of telescopic scope as one of the famous accessory in mobile market. Now there seems to be a similar trend of coming up with microscopic scope that can fit into different market requirement. The CellScope was developed by a team of researchers in University California aiming for those mobile users that would like to diagnose their blood samples or inspect tiny specimens anywhere anytime.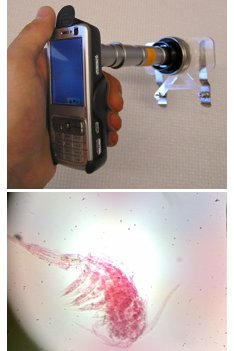 There are two versions being experimented: one with a magnification power of 5 times and the other one with magnification power of up to 60 times. The first one is suitable for high level product zooming and the latter could be used for parasites such as malaria diagnosis and even blood samples inspection. With this portable accessory attached to mobile phone, users will be able to capture and send the photos for diagnosis to be done by doctor in medical center remotely.
Currently the module is still in prototype stage and costs around $75. No firm date on when it will be commercialized but the major challenge for the designer is to further reduce the cost and size so that it is affordable to public.