RESTrick Control Panel is a software utility that allows users to quickly tune and setup many Windows settings and restrictions. Think it as the popular free TweakUI, but a commercial paid version. The program gives you access to configure visibility of disks in Explorer, icons on your desktop, booting and auto-logon options, miscellaneous restrictions of the environment and possibility to deny run of certain applications, and others options you can't reach using default Windows tools. RESTrick allows you to select which user profiles you want to edit so many settings can be configured for each user separately.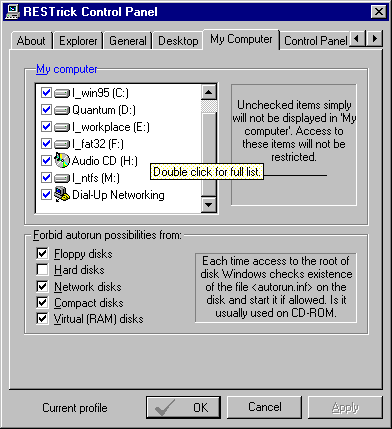 With RESTrick Control Panel, which can be access from Control Panel, users can do the following tasks:
Specify the list of allowed applications. Disable those irritating Windows animations, disallow MS-DOS applications, disable taskbar settings.
Modify system effects like animations, smooth scrolling, and error beeps. Change the locations of special system folders like Favorites, Desktop, and Programs. Change shortcut icons.
Show or hide special desktop icons like My computer and the Recycle Bin. Change icon size.
Hide disks in the Windows Explorer. Hide folders like Dial-Up Networking, Scheduled Tasks, and more.
Hide Control Panel applets.
Delete straggling registry filetypes that belong to non-existent or deleted applications.
Specify extended mouse settings, including sensitivity, buffer capacity (for WinNT), and delay (when expanding sub-menus).
Hide the tabs in the Display Properties window.
Manipulate the records in the Windows NT boot.ini file.
RESTrick Control Panel works on Windows 95/98/Me/NT/2000/XP. It DOES NOT WORK in Windows Vista. In most cases, it's not necessary as most customization and settings can be done using built-in system tools. If you want to use RESTrick Control Panel, GAOTD (Giveawayoftheday.com) now offers users to download and install RESTrick CP for free with full license key, as long as you install the software for personal use within today (April 5, 2008). This free version will be without support and not entitle to future upgrade.
Download free RESTrick Control Panel. After installed, then register the software by importing the rest_lic.key file in Registration.
If you miss out the dateline, don't worry about having to pay $16.95 for the software. The RESTrick Control Panel also available for free via TrialPay, as long as you willing to try or buy one offer from one of the advertisers.