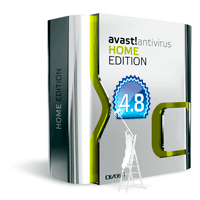 Avast! antivirus is one of the popular anti-virus utility available on the Internet which can be downloaded, installed and used for free. The latest version of avast! antivirus version 4.8 now includes antispyware and anti-rootkit protection, scanning, detection and removal capability, all with a single download and program.

The avast! antivirus anti-spyware capability which built into the scan engine is accredited by West Coast Labs. Other main features of avast! 4.8 include:
Anti-virus built in
Anti-spyware buit-in
Anti-rootkit based upon the class-leading GMER technology built-in
Strong Self-protection to prevent malware from turning avast! protection off
Auto updates
Skinable interface
Email and RSS scanner including Microsoft Outlook and Exchange support
P2P and IM shield
Network shield
Web shield
avast! antivirus 4.8 supports both 32-bit and 64-bit versions of Windows 95, Windows 98, Windows Me, Windows NT 4 (No Server), Windows 2000 (No Server), Windows XP (No Server) and Windows Vista. avast! 4.8 is also the first free antivirus program that integrates anti-spyware and anti-rootkit protection features, other free security software such as AVG anti virus and Avira AntiVir do not include antispyware signature and protection.
Download avast! antivirus Home edition is available free of charge for non-commercial, home use (other language versions available here), or download avast! 4 Professional Edition can be downloaded and used free of charge for a 60-day trial period, which costs $39.95 a year.
If you're not using avast! software, now Avira also giveaways 6-month Avira AntiVir PE Premium license (now known as Avira AntiVir Premium), and AVG also giveaways license valid till December 2008. Other freebie including Rising AntiVirus 6-month free edition.
Update: avast! Free Antivirus 5.0