Browsing articles in "iOS"
For those people who live in big cities or development country, the pollution issue is a big problem for the entire mankind. They can't even breathe the cleanest air every day. That's why recently come out with many different type and brand air purifier on the market. With the advanced technology, a small help with new app, Plume is released to tell you all you need to know about air quality. It is based on the World Health Organization's guidelines on air quality and collected from over 11,000 stations in 30 countries including New York, Paris, London, Tokyo, Shanghai, Beijing etc.
The final stable version of Apple's latest iOS, iOS 9.1 has been released for download (IPSW download links) for supported iPhone, iPad, and iPod touch devices. The final version of iOS 9.1 includes lots of new features and improvement including over 150 new emoji characters, live photos now sense iOS users raise or lower device so that not record these movement, Apple News app, improved stability for apps, improved performance in Multitasking UI, and more. Besides that, iOS 9.1 also bring bug fixes such as fixes an issue that prevented Game Center from launch, fixes an issue that prevented some apps from updating from App Store, and etc.
Have you ever thought you could do your task and simultaneously watching movies or video on YouTube without interrupted? You can watch the mini player in YouTube app on iPad with Picture in Picture mode, but it will only workable while the app itself is in the foreground when you explore other videos inside the YouTube app. However, it doesn't support as soon as you switch to another iOS app, the video will be interrupted.
Have you ever felt frustrated when you want transfer some files from mobile device to PC but you didn't have USB cable on hand? At here, we brings you an app called "AirMore" to helps you solve your problem. AirMore is a cross-platform app to access the mobile device wirelessly on web and able to transfer Android or iOS device files to PC with the easiest way. It is a FREE app that can help you to access and organize your mobile device data from PC.
Apple has officially released the next version of iOS mobile operating system – iOS 9.0.1, a minor update after released iOS 9 on September 16th. The latest iOS 9.0.1 update comes with several bug fixes to solve issue where some iOS users have experienced with Setup Assistant app getting freeze on "Slide to Upgrade" that prevented users from being upgrade their iPhones, iPads and iPod Touch devices. The update also fixes a issue with alarms and timers failing to play, setting up a cutom APN could disable cellular connections, and Safari or Photos app could distort a video if it was paused during playback.
Have you feel bored or tired of the Android function and ready to jump into Apple platform? or have plan switched to an Apple iOS platform from Android? However, you have concern on transferring personal data, downloaded apps, and other information from Android to Apple. Don't worry. If you're trying to find out how to do so, here have a simple guide on using Move to iOS app to help you get your content and data, including images, messages, accounts, and more over to your new iOS device.
There have a lot of username and passwords need to memorize in our daily life. If you can retrieve the stored usernames, emails and passwords from your iPhone and easily manage them, that will be a pretty good feature for quickly getting into all your favorite websites. Two key features – Saved Passwords and Autofill in iOS let you save passwords on websites via Safari. Saved Passwords help you saved your username and password, so that you no need to enter them every time again. Autofill feature make sure the password forms are populated automatically with the saved data. Both these features will stores your username and passwords in your device's memory.
However, if you want to log on to the websites with other devices and forgot the username or passwords? How would you do? Don't worry; you can retrieve all the information through its settings in Safari.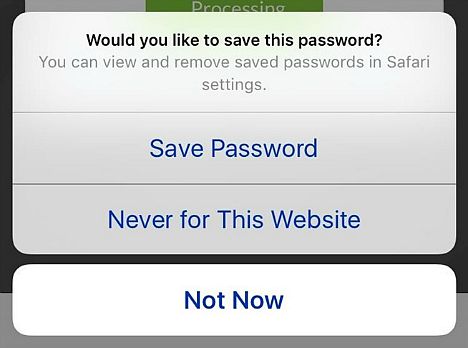 Continue reading »

 YouTube is the most famous and largest video library available online, it allows us to search, stream and upload our favorite videos at the most easier way. However, YouTube is strict and changed its terms and conditions recently to prevent users from downloading videos to watch offline. However, there is still an alternative way to get this fixed by using the third party tool to save your favorite YouTube videos into PC and then sync them over iTunes to iPhone or iPad. Unfortunately, all this method makes it inconvenient and takes time to do this transition. In order to have a short cut way to save your favorite videos directly into iPhone where you can watch them at any time in offline mode, we found an app named "Video Download Browser" which able to downloading in extremely simple and convenient way. This app is Free of charge.