WeChat is a cross-platform social network messaging app made by Tencent Inc. which allows users to send and receive unlimited text, audio, video and voice messages without having to pay for SMS and MMS. Instead, it routes the messages through Internet via wireless (Wi-Fi) or mobile data (3G/4G/EDGE) network. The app also comes with hold to talk features, users can hold down a button to record voice messages and sent back or forth between friends. While moments is another key features that is basically a photo album, and can be synced to Twitter.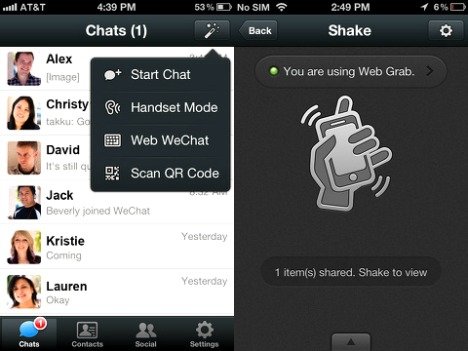 Signing up and adding friends are incredibly easy with a number of different options. Users can quickly sign up for an account from scratch or link accounts with Facebook. In addition, users also can shake phones with location-based social (LBS) features, sharing ID's or scanning QR codes to swap info, enabling users to easily build new connections from around the world.
Features of WeChat:
Free cross-platform individual and group messaging with text, voice notes, images, videos, location data, and more.
Multimedia support – HD video calls, images, and voice notes to your friends and contacts.
Private, group-based photo-sharing social network.
View photos shared by contact.
Blazingly fast registration with your phone number.
Group chat and conversations with your contacts.
No international charges.
Incredibly easy friend adding by shaking your phones together, scanning QR codes, syncing with your phone contacts, sharing IDs, or using location-based services.
Able to login or logout.
Ability to send offline messages to contacts who switch off the phone.
Ability chats on WeChat from your PC through the browser.
Look around – Find people around you to be friend.
Exchange contacts.
Displaying precise message time stamps.
Secure, locally stored message histories always accessible offline.
NO ADS ANYWHERE.
Support for 18 languages includes English, Chinese, Thai, Vietnamese, Indonesian, and Portuguese.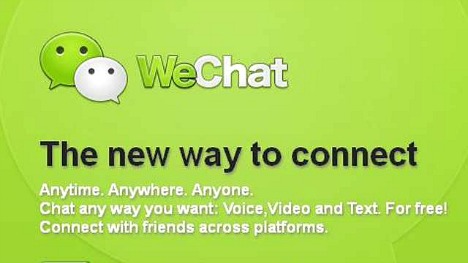 WeChat is available for Android, iOS, Windows, and Symbian mobile platforms and support messaging between all these devices with WeChat installed. Users virtually get the download and enjoy WeChat free for life without any further payment. If you intend to get WeChat, download WeChat for free now from https://itunes.apple.com/my/app/wechat/id414478124?mt=8 or http://www.wechatapp.com/cgi-bin/readtemplate?uin=&stype=&promote=&fr=&lang=en&ADTAG=&t=wechat_download_list