Skype for Windows 8 was released! This Windows 8 version is available in almost all platforms such as Mac OS X, iOS, Android, and Windows and it is available for downloading now. Skype will also integrate with and replace Windows Live Messenger online chat service in future.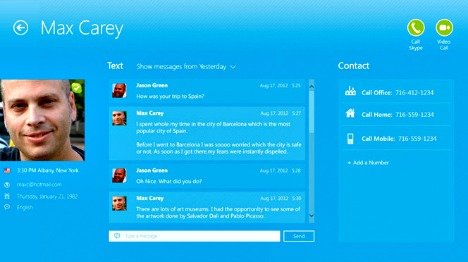 The latest version of Skype is immersive, effortless, and fun to use. Skype will run in the background and users can set up Start Screen so that the Skype Live Tile shows notifications. With Skype for Windows 8, users able to swipe from left to right to see different categories, such as recent activity, favorites and a complete contacts list. In addition, it in-call experience also has been modified to take advantage of certain features in Windows 8. Skype for Windows 8 also integrates new People Hub features which users contacts are organized and merged with social networks, email, phone numbers, and other contact methods. Other than that, all the features that users know and familiar still remain.
Other interesting features of Skype for Windows 8:
Combines voice-only and instant messaging
Integration with the People Hub
Live Tiles able to zoom out and easier to navigate
Allows Facebook users for multiperson conversations and a camera icon that can be clicked on for instant one-on-one video calls with friends
Able to make low-cost or free phone and video calls over the Internet using computers or smartphones
Catch up face-to-face with more people at the same time on a group video call
Send documents, video clips or photos
Screen sharing
Send great rate text messages to friends' mobiles with SMS on Skype
Skype is now offering 1 month free subscription for users, so that users can call offline contacts on their mobiles and land-lines. For users who looking for free offer of Skype, there is a great opportunity offered direct from Skype.
Here how to download and get the free subscription of Skype:
Visit the following URL to download Skype for Windows 8: http://apps.microsoft.com/webpdp/en-US/app/skype/5e19cc61-8994-4797-bdc7-c21263f6282b
Once finish download and installed, sign-in to Skype account.
Visit to promotional page URL: http://www.skype.com/intl/en/prices/subscriptions/unlimited-world

Click on "Claim your free month" button and select the payment method.
After activating the free offer, Skype will pre-authorize $1.00 to check users Paypal or skrill account is valid.

Note: Users won't be charged from the account.
The free offer only available for Skype users that registered more than 29 days but not available in China, Korea, Russia, and Taiwan.
A video of Skype for Windows 8: